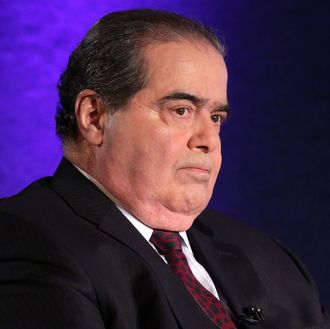 Antonin Scalia.
Photo: Alex Wong/Getty Images
A little less than a week after the death of 79-year-old Supreme Court Justice Antonin Scalia, Washington, D.C., is preparing to mourn the influential conservative justice. On Friday, Scalia's body will lie in repose in the Great Hall of the Supreme Court, an honor last bestowed upon Chief Justice William Rehnquist, who died in 2005. An hour-long private visitation will begin at 9:30, and the public will be able to pay its respects starting at 10:30 a.m.
Scalia will not lie in state, a term that, in the U.S. at least, specifically refers to a memorial in the rotunda of the Capitol Building. But the Court will also honor Scalia by flying its flag at half-staff for a month, and, according to the Times, his now-vacant spot on the bench and the entry doors to the court will be covered in black wool crêpe, a mourning tradition since the 19th century.
Scalia's funeral service for family, friends, and likely some important U.S. officials will take place Saturday in Washington, D.C., at the Basilica of the National Shrine of the Immaculate Conception. President Obama will not be among those in attendance; the White House said Wednesday he and Michelle will honor Scalia at the Supreme Court on Friday. Vice-President Joe Biden and his wife, Jill, are expected at the funeral this weekend. 
The site where Scalia will be buried is still unknown. And whether these rituals of public grieving will finish off the crackpots is another thing entirely. 
*This post has been updated to include comments from the White House.