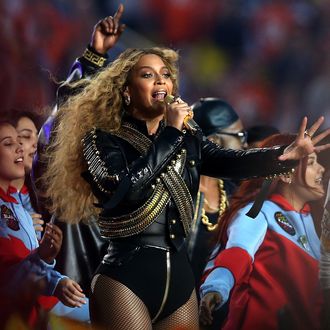 Sheriff Robert Arnold is not a Bey fan.
Photo: Patrick Smith/Getty Images
Beyoncé's "Formation" is a powerful demonstration of black pride in the face of the adversity African-Americans face every day. But because this is America, not everybody sees it that way. Following the singer's performance at the Super Bowl halftime show, several conservative commentators criticized her for "attacking police officers," and former mayor Rudy Giuliani called the number "outrageous." Unfortunately, it appears other misguided souls are buying into the theory that Beyoncé's performance perpetuates the (nonexistent) "war on cops." During a press conference on Tuesday, Tennessee sheriff Robert Arnold claimed a drive-by shooting at his house was inspired by the singer's Super Bowl performance and its aftermath.
His exact words: "With everything that's happened since the Super Bowl with law enforcement as a whole, I think we've lost five to seven officers, [so] I'm thinking, 'here's another target on law enforcement.'" When a reporter at the scene asked him to clarify, Arnold said, "Well, you know, Beyoncé's video and how that's kind of led over into other things about law enforcement." (In fact, Beynoncé's halftime performance seems to have pushed more victims of police violence to the forefront.) Arnold went on to say that police officers must remain on alert at all times because "there's always a concern in any community of anybody doing anything at any time. We all know as soon as you put this uniform on, every day you're a target," he said. "Unfortunately for this incident, me being in my position, I'm just a bigger target."
The shooting occurred on Monday at around 8:18 p.m. when someone in a dark-gray Nissan Altima reportedly fired six shots at Arnold's home in Rutherford County. Officers found .22-caliber casings in a line on the right-hand side of the street, indicating that a passenger shot from a moving vehicle. No one was injured, and police have not said whether any of the shots fired actually hit the house.