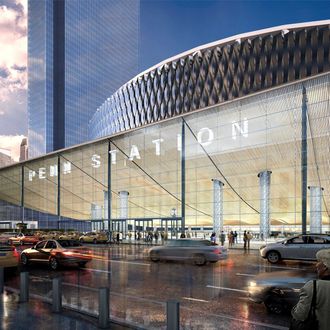 The view from Eighth Avenue; in this scheme, the Theater at Madison Square Garden would be demolished.
Photo: Governor Andrew Cuomo's Office
None of the roughly 640,000 commuters who scuttle—or, at rush hour, shuffle—through Penn Station every day can doubt that it needs, um, improvements. That's a little like saying that Norman Bates's mother could use a little work. But sorting through the various, plans, counterplans, and multibillion-dollar options has become as disorienting as navigating the station itself. Here, then, is the idiot's reasonably well-informed New Yorker's guide to what Penn Station actually is, and how it might one day be rescued from Dantesque degradation. 
I know Penn Station is huge, but the layout is so confusing I have no idea how big it really is. The complex stretches from 31st to 33rd Streets and from Seventh Avenue all the way to Ninth Avenue, beneath four separate buildings: the office tower at Two Penn Plaza, the cylindrical Madison Square Garden, the Farley Post Office Building, and the Farley Annex. 
Why is it always so hard to figure out where you're going? Penn Station is not a terminal but a through-station shared by three distinct transit companies (LIRR, NJ Transit, and Amtrak), which depend on various state and federal bureaucracies. They have separate ticketing and waiting areas, and their own mystifying repertoire of signs, even though the platforms are mostly shared. Eleven platforms serve 21 tracks: LIRR has exclusive use of tracks 17-21 and NJ Transit controls 1-4. The rest are shared with Amtrak. The longest platforms reach west of Eighth Avenue, and current entrances are arranged to maximize the schlep. Fortunately, work is underway on a new set of Eighth Avenue stairs and elevators, plus a concourse linking them, which should halve the dash for the 5:18.
The station's already a madhouse at rush hour. Can it really get any busier? Absolutely. Midtown's center of gravity is moving west, and the number of commuters from New Jersey is climbing steadily. The tracks feed into open rail yards that will soon be decked over by Hudson Yards, an enormous complex of office and apartment towers, surrounding a large open plaza. The tens of thousands of residents and workers who converge on the area will make Penn Station at once more central and more crucial. Then there's the $20 billion Gateway Project for a new pair of tunnels under the Hudson. The fate of that plan is uncertain, but the fate of the existing century-old tunnels isn't: they're in a state of inexorable decline, abetted by Superstorm Sandy. If one of them fails, only half the number of trains will be able to squeeze through and the waiting crowds will make today's Penn Station seem airy. If Gateway arrives before that transit Armageddon, it'll boost the number of trains—and, potentially, passengers—by half. And it's already running above its capacity now.
Does that mean that a hellish place is going to get more hellish, no matter what? Only if we do nothing. A redesigned station would have a new battery of entrances (including some on Ninth Avenue), spacious waiting areas, and plentiful escalators. Crucially, it would modernize and relocate all the baggage handling and railroad operations that now take place behind the damp walls of narrow corridors. 
The governor talked about what we call Penn Station as Empire Station, but I've also heard it referred to as Moynihan Station. What's it really going to be called? The name Moynihan Station refers to the planned conversion of the Farley Post Office Building, a neoclassical landmark designed by McKim, Mead and White, into a new passenger and baggage facility. That work could be completed even without touching the current Penn Station. Cuomo's is a new name for the whole shebang.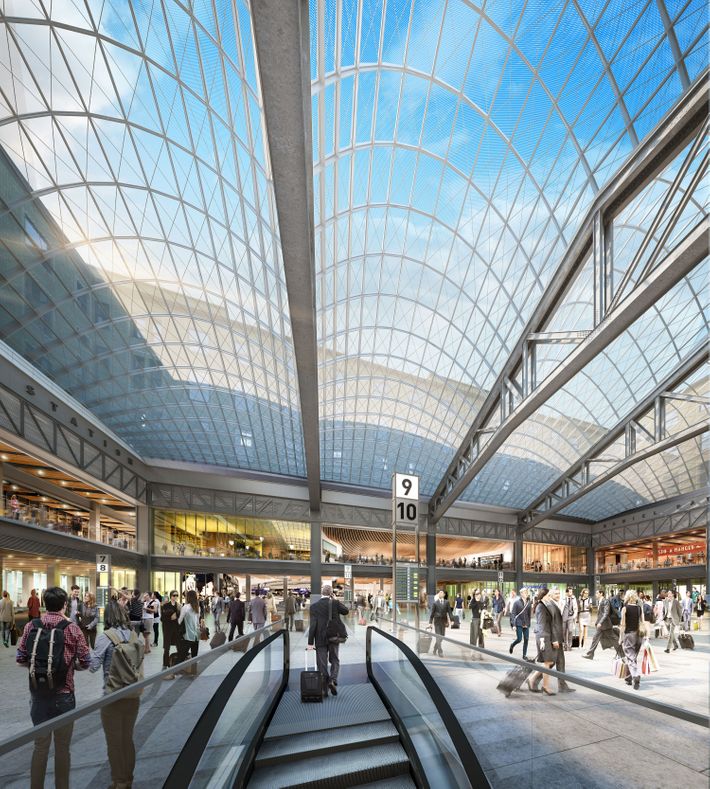 Some renderings show people hanging out beneath an enormous skylight. Where's that going to be? A design by the architecture firm Skidmore, Owings & Merrill envisions covering the courtyard of the Farley building with a set of glass barrel vaults supported on existing trusses. Passengers coming off Eighth Avenue would walk down a gentle ramp and into a hall roughly the size of Grand Central Terminal's main concourse—a spacious, daylit monument to rail travel. 
So when that's going to happen? The design work on Moynihan Station is almost complete. (Again: Plans for it have been drawn up, then left on the shelf, a couple of times since the mid-nineties.) Construction could theoretically begin later this year and last two years, which means we could be meeting under the clock there by 2018. That's the theory, anyway. The governor has issued a new request for proposals to renovate the entire Penn Station complex—and the winner is free to throw out SOM's existing design, which has been years in the making. As for the rest of the complex, the governor has promised to get everything done in three years, which, translated to non-politico English, means that it might be finished by the time your unborn child is in college.
What are those other pictures of a big glass box on Seventh Avenue that looks like an oversized Apple Store? Those aren't really a design at all, just a vague idea of how to make the streets around Madison Square Garden and Two Penn Plaza more inviting. The competing development teams will submit their own—hopefully less generic—overhaul plans. This is an opportunity to produce world-class designs for a major civic structure. Let's not blow it.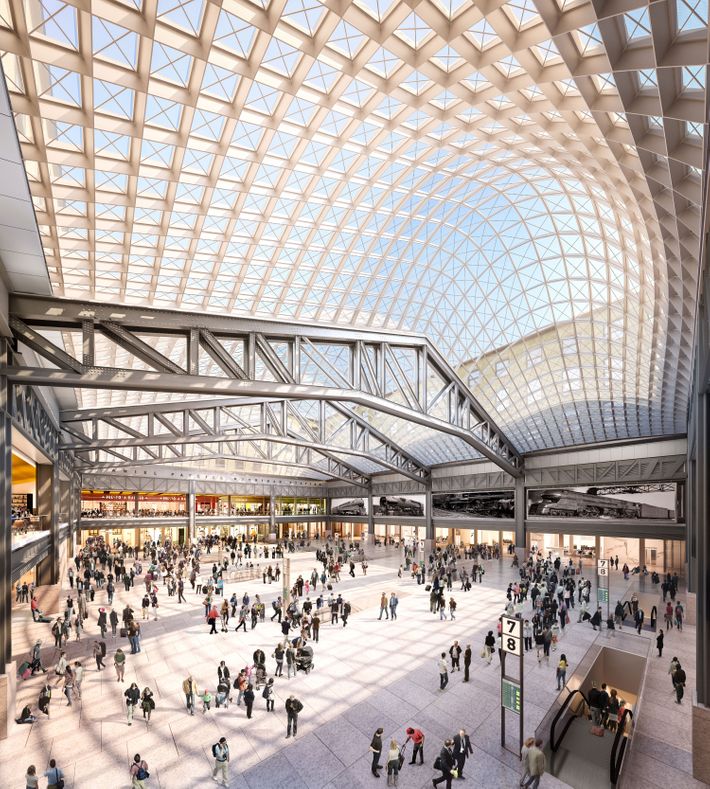 But wait, those placeholder pictures show Madison Square Garden still there! I've heard talk that it was going to move. Planners and activist organizations like the Municipal Art Society would love to evict the Garden. Its current lease expires in 2023 and in theory the City Council could choose not to renew it. But James Dolan, the chairman of the Madison Square Garden Company, has shown no interest in moving, especially since the company recently spent $1 billion to renovate. Relocating would make it possible to design Penn Station from scratch and bring in daylight. But right now, rowdy Rangers fans stay indoors all the way from subway to ice; moving the Garden a few blocks away would bring them out into the street. 
Meanwhile, Governor Cuomo has proposed demolishing just one part of the Garden complex, the Theater (a.k.a. the old Felt Forum, also formerly known as the Paramount), and leaving the rest alone. That's a poor compromise. We've got a once-in-a-century shot at doing things right, and we shouldn't let a big round boulder of a building get in the way.
So where's the money for all these gorgeous visions going to come from? Cuomo has said he could rustle up $325 million in public funds for a project that's estimated to cost nearly ten times that much. Private developers are expected to pony up the rest, in exchange for revenue from new retail areas threaded throughout the station. The downside to this arrangement is that the builders' priority will be to maximize shopping, turning a public facility into a giant mall. The upside would be that it actually gets built.