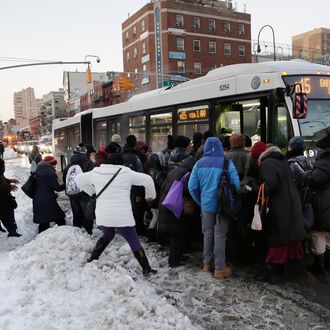 Not this again!
Photo: Mark Lennihan/AP/Corbis
This is going to be tough to hear, but Chuck might have been wrong. Just a day after the Staten Island groundhog did not see his shadow and promised us an early spring, we may have another big dose of winter weather on the way in the form of — you guessed it — snow.
Forecasters who are not rodents are predicting that an incoming storm system and the return of colder temperatures next week could drop some snowflakes on the East Coast, or at least deliver everyone's favorite February precipitation cocktail: a wintry mix.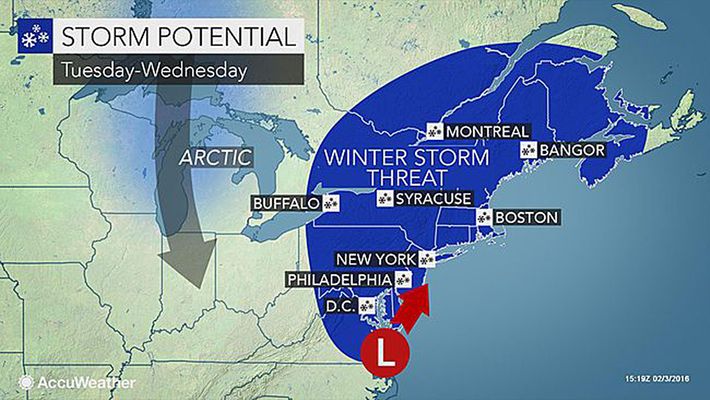 According to New York Metro Weather, it's too early to tell exactly what to expect, but the ingredients are there for a potentially big winter storm to pay a visit around Tuesday to the mid-Atlantic states and New England, just in time for the New Hampshire primary. (Bad.) The week will probably start out rough, with the potential for a snow-rain combination along the shore and some pretty windy conditions. But a low-pressure system coming down from the Great Lakes could help another, stronger storm system develop. Per AccuWeather:
By Tuesday, the air will likely be cold enough to support snow farther east, perhaps right to the Atlantic coast. However, how quickly that second storm forms will determine how much of the mid-Atlantic region receives accumulating snow.
Before you rush out to Trader Joe's, you still need to get through today, which promises to leave the city soaking wet. Wednesday's balmy temperatures — close to 60 in New York — and heavy rains will wash the dregs of our dirty snow piles down the sewer grates, but will make your evening commute soggy and gross. And you'll have to put the windbreaker away after today, as the weather will cool down — and we may even get a little dusting on Friday morning as a teaser for next week.