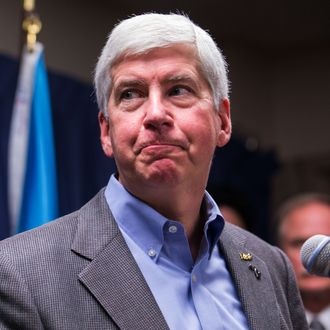 One tough nerd.
Photo: Brett Carlsen/Getty Images
In October 2014, General Motors informed the Michigan governor's office that the Flint River's heavily chlorinated water was rusting its car parts. The governor's environmental-policy adviser, Valerie Brader, decided that water unfit for washing engines probably shouldn't be ingested by children. More specifically: If the chlorine in the water could corrode car parts, it was probably also corroding Flint's lead pipes. Governor Rick Snyder's chief legal counsel, Mike Gadola, agreed, according to emails obtained by the Detroit News.
"To anyone who grew up in Flint as I did, the notion that I would be getting my drinking water from the Flint River is downright scary," Gadola wrote in an email to the governor's chief of staff and other top aides. "Too bad the (emergency manager) didn't ask me what I thought, though I'm sure he heard it from plenty of others."
Gadola went on to note that his mother still lived in Flint. "Nice to know she's drinking water with elevated chlorine levels and fecal coliform," he said. "I agree with Valerie (Brader). They should try to get back on the Detroit system as a stopgap ASAP before this thing gets too far out of control."
It would be nearly a year before the city followed Brader's advice.
Snyder himself was not copied on the email, and Brader told the News that she never shared her concerns with the executive personally. "I certainly was never in a meeting with him (Snyder), nor did I raise what I wrote in that email," Brader said. "And to my knowledge, neither did Mike Gadola."
The governor's chief of staff, Dennis Muchmore, told the paper that his office agreed with Brader's assessment but was prevented from acting because of resistance from the Treasury Department and the legislature.
"Since we're in charge, we can hardly ignore the people of Flint," Muchmore wrote in an email to communications officials in the governor's office and Treasury Department. "After all, if GM refuses to use the water in their plant and our own agencies are warning people not to drink it … we look pretty stupid hiding behind some financial statement."
But Muchmore never asked the legislature for a supplemental spending bill to reconnect Flint to Detroit's water system, concluding that such a proposal would be "dead on arrival."
Public-health officials believe that as many as 8,000 children in Flint ingested water with dangerously high levels of lead.
The emails are the latest in an ongoing series of publicly released messages from the governor's office concerning the state's handling of the water crisis in Flint. Prior emails showed that government workers in Flint were provided bottled water more than a year before it was given to regular citizens.