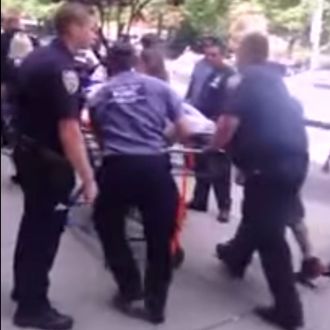 The Staten Island hospital that dispatched paramedics to try and save Eric Garner, the 43-year-old black man killed in July 2014 by a police officer using an illegal chokehold, is paying his family $1 million in a settlement reached in July. According to court documents obtained by the Associated Press, the agreement, with Richmond University Medical Center, is separate from the $5.9 million settlement the city worked out with the family around the same time.
As seen in one of the videos of the scene that have been circulated, the medical responders found Garner unresponsive on the sidewalk in handcuffs. They questioned him for a couple of minutes, but he was out cold. Minutes later, they loaded him onto a stretcher and carted him away. Two paramedics and two emergency medical technicians were suspended a few days after the incident. The hospital has not given a reason for the suspension and has since reinstated the hospital workers into non-patient-care positions.
The city's medical examiner called Garner's death a homicide, and yet the officer who administered the illegal chokehold, Daniel Pantaleo, was never indicted, setting off a national outcry and protests around the country. A federal grand jury in New York has begun to hear evidence determining whether Garner's death was simultaneously an attack on his civil rights.