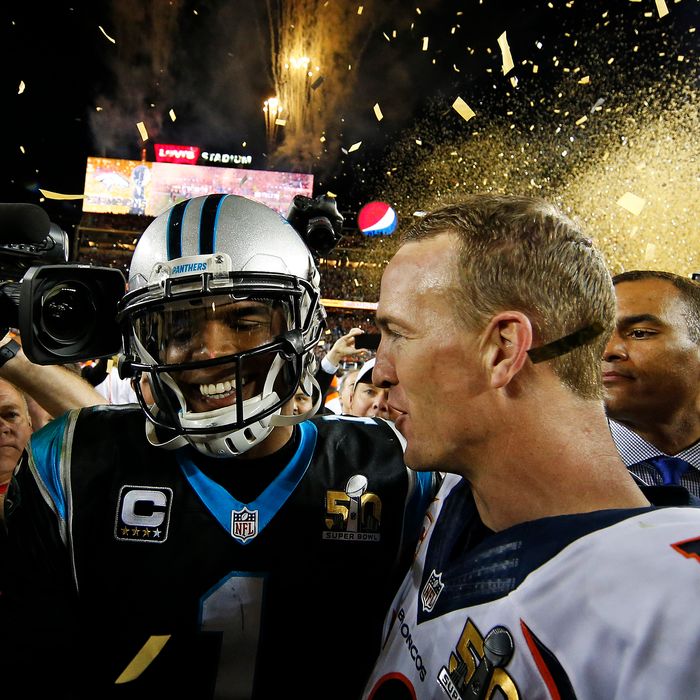 QBs Cam Newton and Peyton Manning after the game.
Photo: Ezra Shaw/2016 Getty Images
Did you fail to watch the Super Bowl on Sunday night, defying both Budweiser and Beyoncé? Fear not: We've compiled a handy GIF guide to the Denver Bronco's 24-10 win over the Carolina Panthers. Here's a look at all the night's important fumbles, world-tour announcements, and gastrointestinal ailments.
Lady Gaga wasn't about to re-create the Christina Aguilera debacle, so she went with a fairly conservative rendition of the national anthem. Well, conservative for her. She stepped out in a shiny red pantsuit and sparkly blue nails, but quickly brought our attention back to America by pointing at us on the line "Oh, say can YOU see?"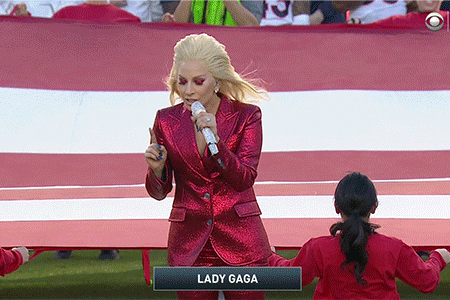 Marlee Matlin's hands are saying "through the perilous fight," but her eyes are saying "America: Fuck Yeah!"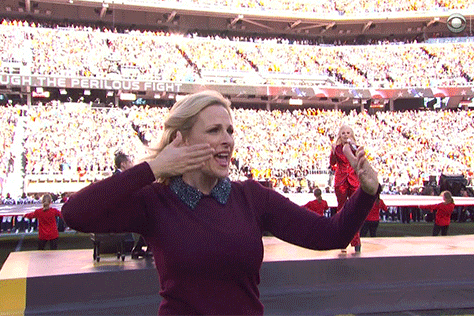 "And that, Little Monsters, is how you sing our nation's anthem."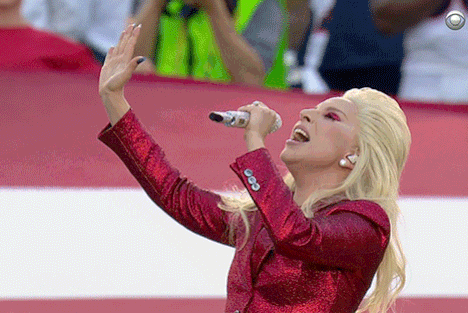 Panthers quarterback Cam Newton opened with his traditional pre-game prayer.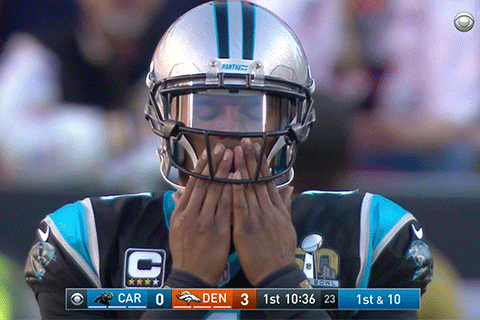 Doritos ran an ad about snack-food-induced premature birth. This pretty much sums up America's reaction: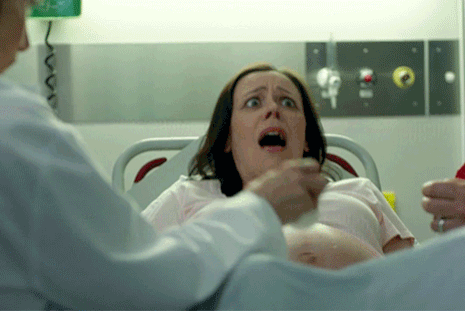 With seven minutes to go in the first quarter, Broncos linebacker Von Miller sacked Cam Newton, sending the ball flying. Broncos defensive end Malik Jackson jumped on it in the end zone, scoring the game's first touchdown. If someone can figure out how to condense all that, it would make a great "teamwork" poster.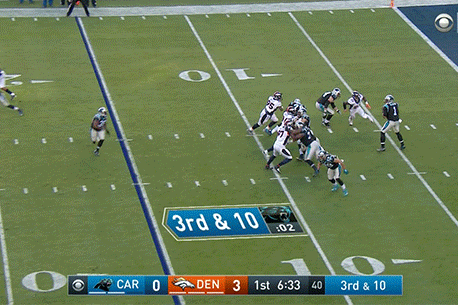 That play was so fun, everyone decided to start jumping.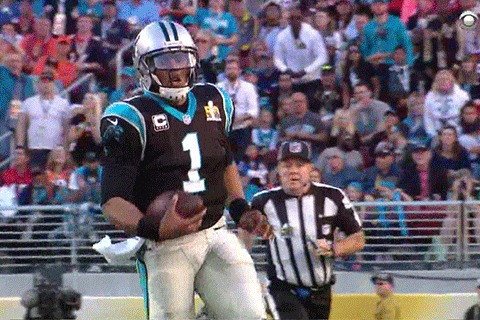 Sure, the Panthers' Jonathan Stewart could have run into the end zone, but this is way more entertaining. His TD dive brought the score to 10-6 Denver.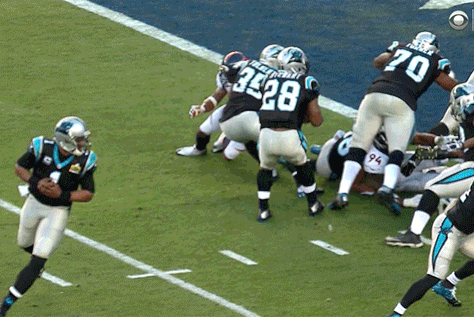 But running still has its moments, like when Jordan Norwood set a record for the longest punt return in Super Bowl history with this 61-yard run.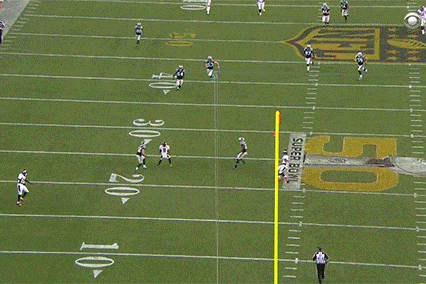 In other record-setting news, defensive end Kony Ealy sacked Broncos QB Peyton Manning three times, becoming one of only three players to do so in a single Super Bowl. And he topped it off with this sweet one-handed interception.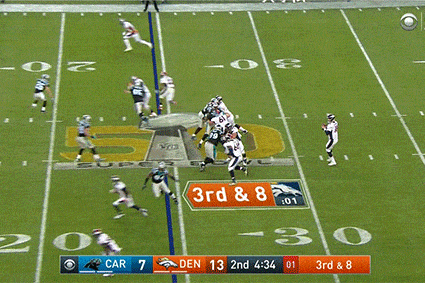 But enough about football. It's time for the halftime show! First up, it's Coldplay, favorite band of your mom, uncool white people, that one friend from high school … okay, honestly we're not sure who likes Coldplay. Everyone on Twitter was pretty mean.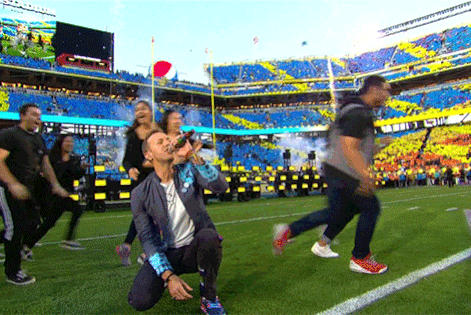 Ah! Here we go: This guy sopping up Chris Martin's sweat with a rainbow-print hankie seems pretty into Coldplay.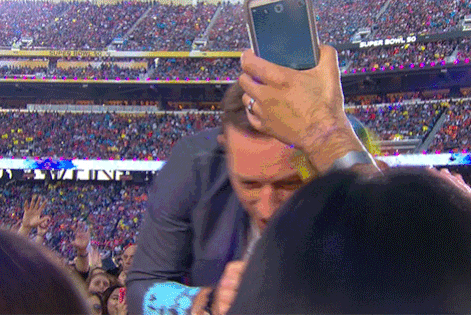 As if the NFL was doing very belated penance for the Janet Jackson–Justin Timberlake incident, the aesthetic theme of this musically neutral performance was "colors."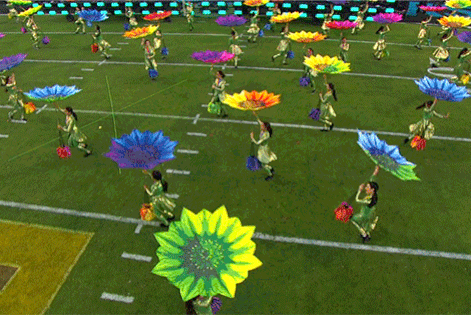 Who doesn't like colors!?!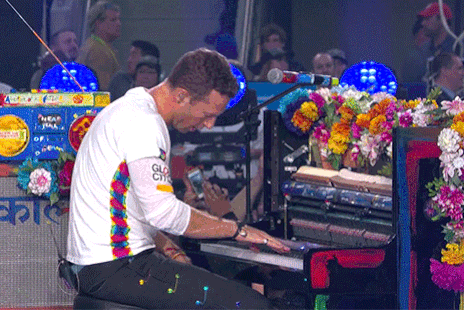 This guy, apparently.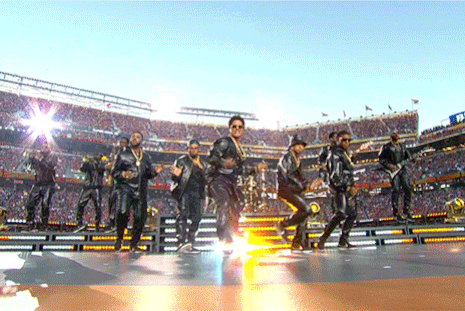 Imma let you finish, Bruno Mars, but Beyoncé had the greatest inexplicable Super Bowl 50 appearance of all time. OF ALL TIME!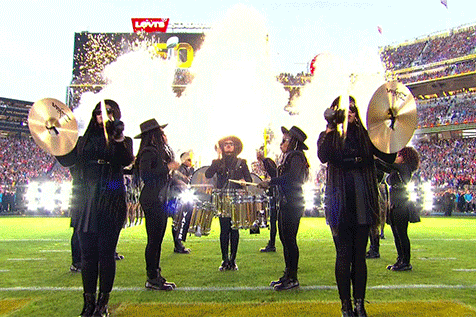 It's hard to tell if she lost her balance here or just debuted a new dance move. Maybe both?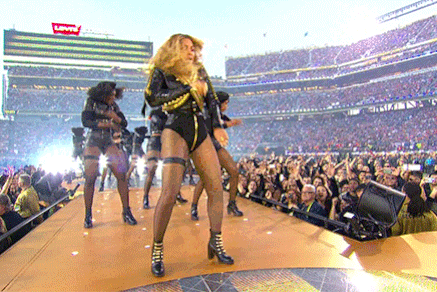 When it was Coldplay's turn again, even the NFL got bored. They tried to spice things up by running clips of previous, more scandalous halftime shows.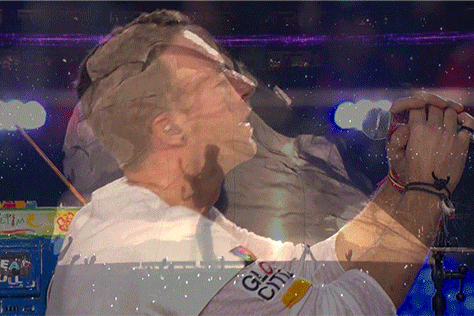 The show still slayed, thanks largely to the addition of "Formation," but at the end it wasn't clear why this ever happened.
Then they cut to commercial, and suddenly everything made sense.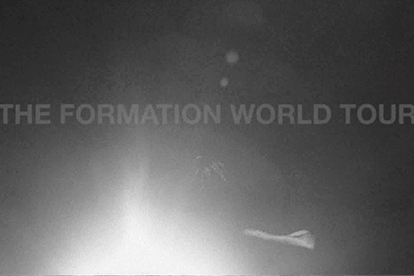 Okay, back to America's Funniest Home Videos: Super Bowl Edition. Broncos safety T.J. Ward intercepted a pass from Panthers QB Cam Newton, only to fumble it. The ball was picked up by his teammate Danny Trevathan.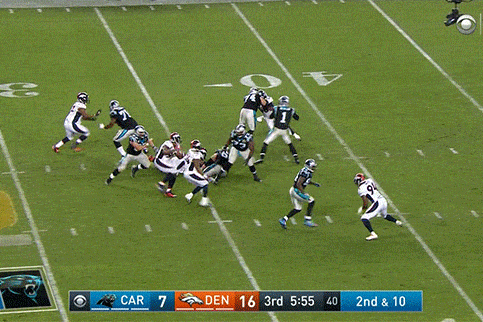 Panthers wide receiver Philly Brown made an amazing 42-yard catch, then left the field with an injury. He was out for the rest of the game due to a potential concussion.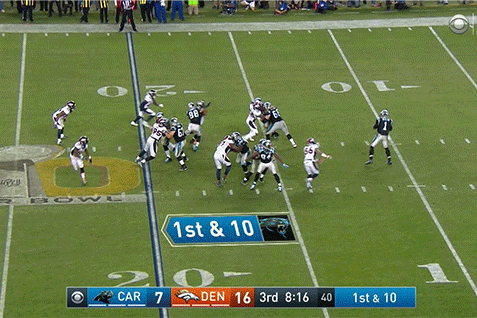 Time for a commercial break. Are you suffering from severe abdominal pain and diarrhea? Try Xifaxan — it worked for this IBS puppet! There was also a commercial for "opioid-induced constipation," so you could also try to balance things out by getting hooked on prescription painkillers.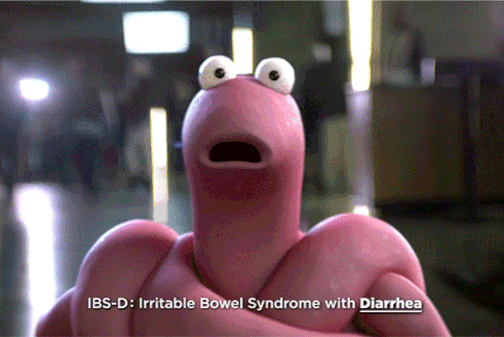 Question of the night: Is this burger real, or was it added in to keep us focused on Helen Mirren's anti–drunk driving message, rather than her décolletage?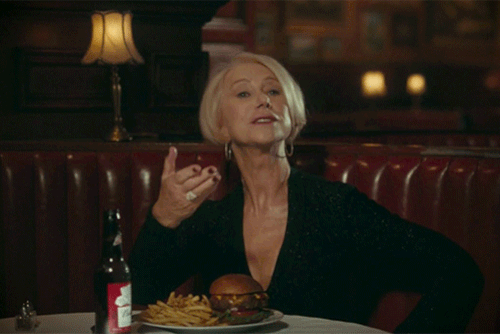 Don't even try to figure out why Seal was featured in an ad about kids born exactly nine months after the Super Bowl.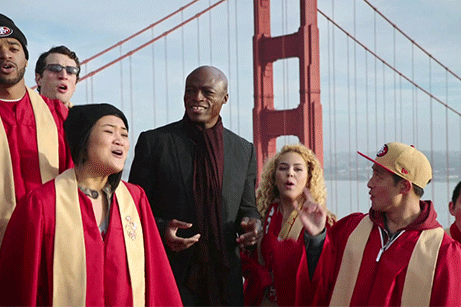 Let's get back to the game. With four minutes left in the fourth quarter and the Panthers down 16-10, Cam Newton was hit by Denver's Von Miller and dropped the ball.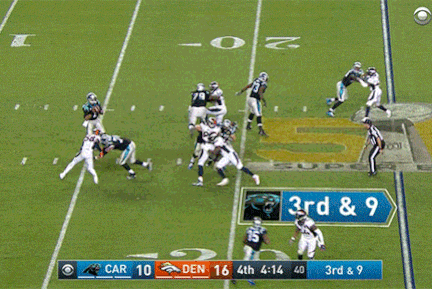 The Broncos recovered the fumble, and four plays later, they were up 22-10.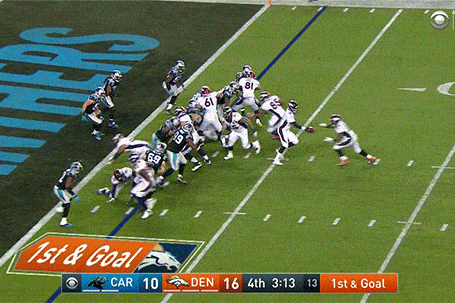 Cam was pretty torn up about this turn of events.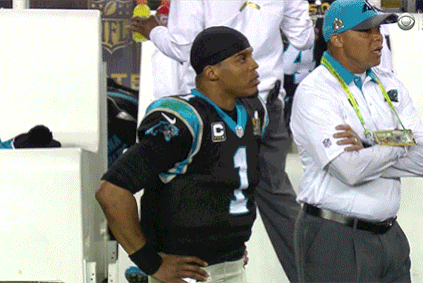 As were Panthers fans.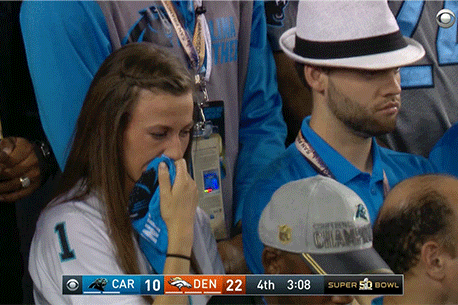 Of course, the Broncos were ecstatic.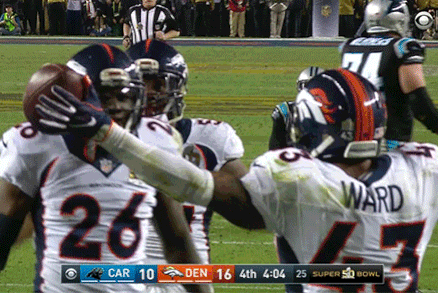 Except for Broncos fans who suddenly realized they wouldn't be the only brother with two Super Bowl rings.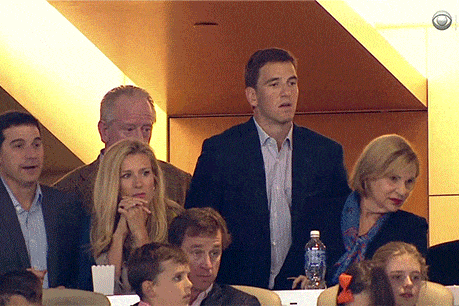 But whatever. Who needs family when you have the love and support of the Papa John?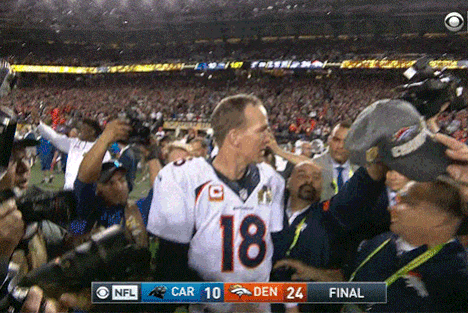 In his first post-game interview, the quarterback/pizza-chain spokesperson mentioned that he's going to "drink a lot of Budweiser tonight" before he thanked "the man upstairs." Apparently Manning isn't paid by the brand, but he does own a stake in two Anheuser-Busch distributors. When you're a 39-year-old quarterback everyone expects to retire, showing off your promotional skills is key. Surely the big guy understands.