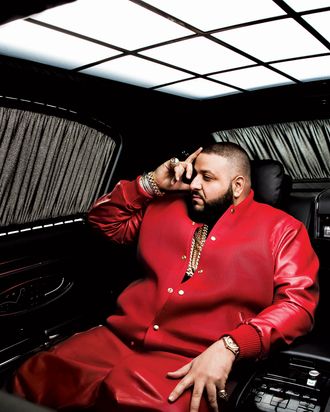 "Ride wit me through the journey of life."
Photo: Clay Patrick McBride
I hear it before I even poke my head through the door frame: the familiar, percussive, triumphant declaration of self that I've heard at the beginning of several popular radio-friendly rap songs in the past decade, like "All I Do Is Win" and "We Takin' Over." The trademark "DJ Khaaaled" incantation is sort of what the rap personality and producer DJ Khaled is best known for — or at least it was until he joined Snapchat four months ago. It's the equivalent of blowing an air horn at the beginning of a game or, in this case, at the start of a video, like the teaser he's filming with Nas in a blunty-smelling bungalow at the Beverly Hills Hotel.
DJ Khaled — real name: Khaled Khaled, and perhaps the most famous living Palestinian-American besides former governor John Sununu and the Hadid brood — is leaning back in an armchair, wearing a big chain and low-slung dark-wash jeans, with a We the Best hoodie from his new line of Khaled merchandise. He and Nas have just finished up an hourslong recording session for the second episode of We the Best Radio, Khaled's show for Apple Music's Beats 1 radio. Khaled has big plans for his show. Diddy, for instance, will be interviewed in a Jacuzzi, Rick Ross in a Rolls-Royce. (It's audio, but Khaled believes the setting matters.) Since Nas is one of Khaled's idols, though, he wanted full "Oprah vibes." Hence the semi-formal couch interview and all the signifiers of the good life: crystal glasses of Henny, a fat cigar smoking in the ashtray, and some fresh purple flowers — his "angels," as Khaled calls blooms on the regular Snapchat tours he gives of his garden.
In an unlikely turn of events, the 40-year-old Khaled — who has been steadily making music since the early '90s, recently collaborating with such artists as Drake and Lil Wayne — is now best known for his mastery of a social network largely favored by teens who think Instagram requires too many words (and who like the idea that the Snaps disappear in 24 hours). Khaled first signed up for Snapchat in October, after noticing that other musicians he worked with used it. He began sharing videos of himself living enthusiastically: swigging Listerine from a bottle while getting ready, hanging out with Jay Z. It took him only about a month to get 20 million followers — almost as many people as tuned in to this year's Grammy Awards, and nearly in the same stratosphere as Kylie Jenner, the world's top Snapper but one who, being both an actual teenager and a Kardashian, enjoys an advantage.
Khaled's appeal on the app is a bit harder to pin down. Occasionally, his story lines are epic, like the time he live-Snapped his adventures getting lost at sea last December. He was returning from Rick Ross's house, via Jet Ski, inviting viewers to "Ride wit me through the journey of life." But the sun was setting fast, and confusion set in. He was eventually fine — never lost a cell-phone signal, and went viral in the process — but concluded to his followers, "The key is not to drive your Jet Ski in the dark." Most of the time, though, the content of Khaled's Snapchat is mundane: tending to his beloved plants, engaging in some self-care, proferring advice.
Of his own appeal, "it's just me being me," Khaled explains, platitudinous even in casual conversation. "The world is inspired by it, and I'm so honored that they're inspired, because I always tell myself I gotta be inspired by myself." This line of thought isn't a totally new turn for him. All Khaled's music could credibly be termed "Motivation Rap" — album titles include We the Best, We Global, We the Best Forever — but relentless bombast can be exhausting by the end of a four-minute song. On Snapchat, repetitive sound bites make for meme-ready catnip. It might be the only form of self-help the internet generation can handle — a little bit ironic, highly comical. Khaled's philosophies can sometimes sound like Tony Robbins had a baby with The Secret and they decided to raise it as a Quaker. I'd suggest some Zen Buddhism in the mix, because Khaled meditates regularly, but he likes possessions too much. "I tell myself every day I love my Jacuzzi, I love my marble floors, I love my high ceilings," he ticks off. "I love having an unlimited supply of cocoa butter."
Nas and Khaled do a take. Khaled stops to cut and light a fresh cigar. He starts again, in his hype-man voice: "Nas, DJ Khaled, Biggest Interview. Major Keys. Icon Alert. DJ Khaaaled." He keeps mixing up how he lands the pronunciation of his own name. First it's Kha-led, like a one-two punch. Then Khaaaaaled, like a song, and then Khaled! like he's so excited to be DJ Khaled. He Snaps out the final version — Kha-led — under his handle @djkhaled305.
"My phone is buzzin'! It's lit now," says Nas seconds after Khaled puts his Snap out. They exchange a combination of hand grabs and backslaps before Nas leaves, then Khaled's entourage erupts into a conversation that is 99 percent parroting Khaledisms.
"Man, he was dropping major keys," says one. Keys, which Khaled heralds with the use of the key emoji, are advice or wisdom. These include, for instance, "When you get out the shower, dry your back — it's a cold world out there." (There's an entire sub-Reddit devoted to Khaled's keys.) Other building blocks of the Khaled Snap lexicon include "Bless up," which is sort of like "What's up" but also "I wish you well," and usually indicated by the prayer-hand emoji. He's also fond of #AnotherOne, deployed when he's replicating a success. Then there are the admonitions, like "Protect the Bag," as in money.
This being the internet of 2016, publications like Forbes and Tech Insider have recently used Khaled as a case study, mining his social-media success for branding strategies. Uber and MasterCard have started piggy­backing on his use of "Major [Key Emoji]" to seem relevant. The Khaled effect is quantifiable: Usage of the key emoji increased by 800 percent one month after he started using it.
One of Khaled's employees interrupts us because it's "snack time." He's pulled a Tupperware labeled SNACK 1 out of the hotel room's mini-fridge — an apple with almond butter. He places it on the table in front of Khaled — a man of girth — who's often Snapping while sweating profusely from the elliptical. "I want to lose weight because I want to be focused, meaning healthy," he says. "That's me inspiring myself. That's a secret they hid from me growing up. They never told me about gluten-free."
They is a commonly referred-to force in Khaled's life. It's they who don't want you to win in any way at all. They don't want you to have a nice breakfast. "Khaled, who is they?"
He looks up from his phone. "They is … stay away from them, please. There is so many different definitions of they. You might have a personal they. They against you; they want you broken and miserable. They don't like winners, they don't like people who's blessed. So everybody's got a different they." Having finished his sermon, he returns to his notifications, rolling in ceaselessly.
*This article appears in the February 22, 2016 issue of New York Magazine.