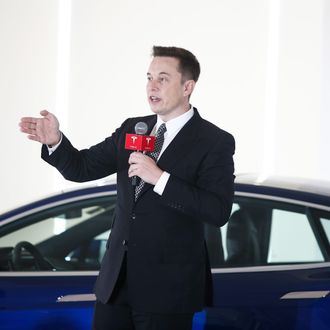 Photo: ChinaFotoPress/Getty Images
In one of the most embarrassing and inert Silicon Valley feuds in recent memory, Tesla founder Elon Musk and a venture capitalist are slighting each other after the VC criticized a Tesla event.
Last September, VC Stewart Alsop published a post called "Dear @ElonMusk: You should be ashamed of yourself," every sentence of which is cringe-inducing. In it, Alsop describes attending a launch event for Tesla's new Model X, which started almost two hours late.
Here's an excerpt:
I drove 2.5 hours round trip. I arrived on time, waited around 30 minutes outside the building, got packed inside the building with ~3,000 other people for another 60 minutes, got moved from one room inside the building to another to wait another 20 minutes with the same 3,000 people. And then, drum roll please, you shuffle out on stage and start with a slide show — an amateur slide show at that — all about how safe the Model X is.

Yup, you lead with safety, like that's why we're all spending $130,000 or more on this car! So, at 9:00pm, two hours after arriving mostly just to see a Model X up close, I left. I was angry. (Not to mention I was hungry, since you didn't even provide real food during dinner time!)
To reiterate, the wealthy guy willing to drop $130,000 (sight unseen: "I never did see the Model X. I still really want one.") on a car is mad that the car is not a death trap, and forgot to pack himself a snack.
Not to be outdone in this pettiness race to the bottom, Musk promptly canceled Alsop's preorder. Alsop wrote yet another post on Medium announcing the revocation and that he had been banned by Tesla. "When I wrote a [critical] blog post about my BMW … the CEO of BMW didn't take the car back," Alsop noted.
On Twitter, Musk referred to all of the attention surrounding the row as a "slow news day," which, fair.