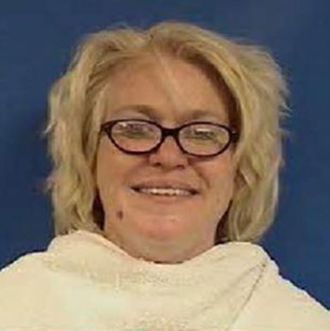 Christi Howell was arrested February 9 on child-abuse charges.
In a move that would make Donald Trump proud, a Texas woman has been arrested for allegedly helping her boyfriend waterboard her mentally disabled 13-year-old son and tying a rope around his genitals. According to the Dallas Morning News, Christi Howell, 40, and Casey Shackleford, 45, of Kaufman, Texas, were taken into police custody after Howell's son accused the pair of torture. He stated that when he told Shackleford he'd "put his finger inside the family dog's butt," Shackleford grabbed him by the hair, pinned him down, and held a towel over his face while Howell poured water over his mouth and nose. "The victim said that he was able to breathe slightly if he moved his head to the side and that kept him from feeling like he was drowning," reads the affidavit.
Shackleford reportedly then told Howell to tie a rope around the boy's genitals, which she did. She tied the other end around his neck, and she and Shackleford left him tied up "for as long as 10 minutes," causing "burns on his back and on his genitals." Howell's son also referenced a previous incident in which his mother struck him repeatedly for not maintaining proper form while doing push-ups.
Howell confessed to the torture when confronted by police, but she blamed Shackleford for coming up with the idea — she's currently being held on a $250,000 bond. Shackleford is also charged with violating probation; last year he was convicted of aggravated assault with a deadly weapon. Both Howell and Shackleford are charged with felony injury to a child, which could land them in prison for up to 20 years. The teenager has been placed in foster care.