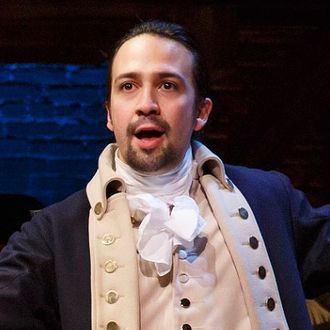 Among the items in the purse stolen from a Tennessee tourist were two tickets to Lin-Manuel Miranda's smash Broadway show.
Photo: Joan Marcus
Police say they've caught a thief who allegedly stole a tourist's purse containing, among other things, two tickets to the hit musical Hamilton. Via DNAinfo, the victim — a 60-year-old woman from Tennessee — had been walking on 53rd Street with her husband on Saturday when Daquan Livingston, 20, grabbed her purse and ran, according to a complaint filed with the Manhattan D.A.
Using the Find My Phone app on her iPhone, police tracked the device to the Apple Store on Fifth Avenue, where the woman recognized Livingston. He tried to flee, but cops caught up to him and found the woman's phone, credit cards, and ID in his jacket pocket. Neither police nor the D.A.'s office, however, said whether the Hamilton tickets were recovered along with the $450 Tory Burch purse, which also contained two plane tickets, $450 in cash, and a ticket to the Tenement Museum. 
Livingston was charged with grand larceny and criminal possession of stolen property. As for the tourists, if their tickets were indeed lost for good, there's always the Grammys.