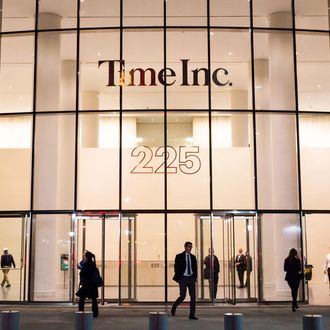 Time Inc.'s heyday, like Yahoo's, is behind it.
Photo: Michael Nagle/Bloomberg Finance LP/Getty Images
It's Google's world, and we're all just living in it, which is bad news for its bruise-colored former competitor Yahoo! The latter company's stock has dropped 29 percent in the past 12 months, it just shuttered half of its content verticals, and CEO Marissa Mayer has pledged to cut 15 percent of the staff. Its board is also talking about spinning off its core internet business, around which buyers like Verizon and AT&T are circling — and now Bloomberg Businessweek reports that Time Inc. may be looking as well. According to unidentified "people familiar with the matter," the company heard a presentation from Citigroup bankers about potentially merging with Yahoo. Inevitably, this brings up memories of the AOL Time Warner deal, except this time both companies are relatively fragile.
Time Inc. is much smaller than other companies courting Yahoo, but Businessweek points out this could work to Time's advantage — the company is eligible to form a structure with Yahoo called a Reverse Morris Trust, which combines a spinoff company (in this case Time Inc., which detached from Time Warner in 2014) with another in a tax-free merger. It's basically one big tax-avoidance strategy, which Yahoo could find attractive — though not as attractive as a cash bid from another big company, according to said anonymous sources. Given the nature of the Reverse Morris Trust structure, Mayer would almost surely leave Yahoo.
Time Inc. CEO Joe Ripp reportedly has "new ideas for Yahoo," which sounds promising but optimistic, as he has yet to conceive of new ideas for his own company (aside from buying the owner of MySpace to improve targeted advertising). Ripp has said his focus is on building Time Inc.'s media presence, calling the company a "player of scale in the industry."