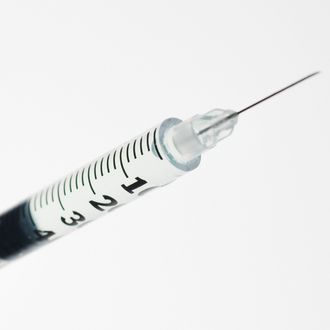 No, thank you.
Photo: Image Source/Getty Images
Crime may be at an all-time low in New York, but weird scary subway attacks are not. Eight slashings have occurred so far this year, and Wednesday evening a woman at the Times Square subway station was reportedly attacked with a needle. According to the New York Daily News, the 37-year-old woman was on her way home at around 6:50 p.m. When she exited the subway station via the W. 49th Street and Seventh Avenue turnstile, she felt a man bump into her and a sharp pain in her shoulder. When she arrived home she discovered a puncture wound on that shoulder and checked into Queens Mount Sinai Hospital for treatment.
An emergency-room doctor reportedly confirmed the wound was consistent with a needle, but exactly what the attacker used to puncture his victim's skin — whether a syringe, a sewing needle, or some other thin sharp object — is still unclear. Police are checking the surveillance recordings to get a better idea of what happened.
This attack comes as cops are struggling to get a handle on the spike in subway slashings, some of which have been spurred by arguments and others of which appear to be random. On Monday the Guardian Angels started patrolling trains for the first time in more than two decades, and the NYPD has upped its presence on trains and platforms as well. Police Commissioner Bratton even proposed a (probably illegal) plan to bar "career criminals" from the subways. "We'll deal with it," he said during an interview on Monday.