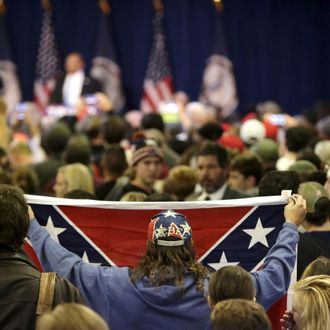 A Trump voter shows his support for making the South rise again at a rally in Virginia.
Photo: Gary Cameron / Reuters
We already knew that Donald Trump supporters believed some terrifying things. For example, many of them think Donald Trump should be president. But a new PPP poll of South Carolina finds that the GOP front-runner has built a coalition chock-full of intolerant extremists.
Less than a quarter of Trump supporters in the Palmetto State are glad that the North won the Civil War, while 38 percent wish that the region's treasonous slave empire had prevailed. No other candidate's supporters feel the same (although Cruz voters are evenly split on the matter). That domination of the "lost cause" vote has helped Trump establish a prohibitive lead over the rest of the GOP field ahead of Saturday's primary.
But the Queens native's appeal isn't limited to "Jefferson Davis Republicans." He's also crushing it with voters who are concerned about stemming the tide of homosexual immigration. While 80 percent of Trump voters support his proposed ban on Muslims entering the United States, 31 percent would like to see that policy extended to cover gay people. "Ban the gays" conservatives make up no more than 17 percent of any other candidate's coalition. What's more, 40 percent of Trump voters support shutting down every mosque in the United States, while 33 percent think that practicing Islam should be straight-up illegal. Still, some Trump supporters are moderates. For instance, 32 percent are bipartisan enough to give President Franklin D. Roosevelt credit for his excellent policy of Japanese internment.
After Mitt Romney's loss in 2012, the GOP commissioned an autopsy report, which warned that Republicans must take immediate action to counter the impression that they are a "'scary,' 'narrow-minded' party of 'stuffy old men.'" The betting-market aggregator PredictWise currently gives Trump a 49 percent chance of winning the Republican nomination.