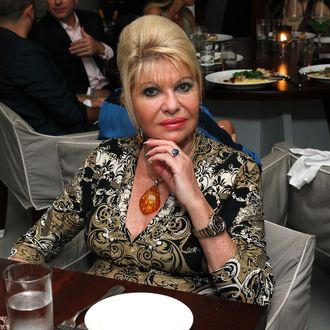 Ivana Trump.
Photo: Astrid Stawiarz/Getty Images
Donald Trump's ex-wife has nearly as many options for Valentine's Day as Republicans have for their nomination.
"I have about three boyfriends," Ivana Trump told the Daily Front Row. "I'm definitely not getting married again, and I definitely don't want to have children anymore, but I have companions."
The 66-year-old Czech model and novelist may equivocate on the exact number of suitors she has, but her support for the Donald's candidacy is unambiguous.
"Donald is doing great in his campaign. I think he would make a great president," she said. "He will negotiate deals. He is one of the most dynamic people in the world. He looks presidential, and he talks presidential, and he would make the changes he promises."
Forty-four percent of GOP voters agree.