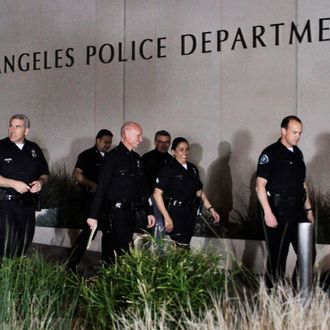 If convicted, the officers could face up to life in prison.
Photo: Jonathan Alcorn/Getty Images
In a case sickeningly reminiscent of Daniel Holtzclaw's, two LAPD officers have been charged with repeated sexual assault while on duty. James Christopher Nichols and Luis Gustavo Valenzuela have each been charged with multiple counts, including forcible rape, rape under color of authority, and oral copulation under color of authority between December 2008 and March 2011, the Los Angeles Times reports. Their victims are four women ages 19, 24, 25, and 35, and had all been arrested by the officers on drug-related charges. (Both officers worked in the narcotics unit.) The two officers first came under suspicion in January 2010, when a woman who worked as a confidential informant for the LAPD told a supervisor Nichols and Valenzuela had pulled alongside her in a Volkswagen Jetta, demanded she get in the car, and forced her to touch Valenzuela while Nichols kept a lookout.
That investigation went nowhere, and officers were unable to locate the woman again, the Times reports. But, a year later, another victim came forward, saying she'd suffered similar treatment in a similar car from the two officers back in 2009 and hadn't reported the claim then because "she felt humiliated, thought no one would believe her, and feared for her safety." Police reopened the investigation after this second allegation, but it went nowhere for a year and a half. Both Nichols and Valenzuela were transferred, but subsequent reports suggest a pattern of sexual assault:
One [woman] said Nichols had detained her in July 2011, handcuffed her and driven her to a quiet location. Removing the restraints, Nichols exposed himself and said, "You don't want to go to jail today, do you?" the woman recalled. Fearing she would be arrested, the woman performed oral sex on Nichols, who then released her, she said. She said Nichols had done the same thing to her six years earlier.
A fourth woman said she became a confidential informant for Nichols and Valenzuela and was forced to have sex with both officers multiple times. Otherwise, they told her, she'd go to jail. Back in 2013, after the officers were arrested by their own colleagues, LAPD chief Charlie Beck told the Times he was "saddened by the allegations. If they are true, it would be horrific."