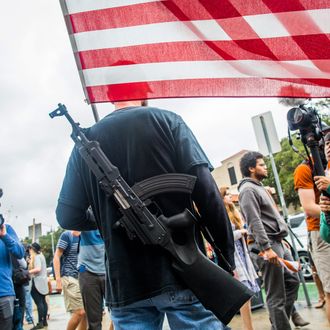 A pro-gun rally near the UT campus in December.
Photo: Drew Anthony Smith/Getty Images
University of Texas at Austin president Greg Fenves doesn't really want guns anywhere on his campus. However, under new guidelines submitted on Wednesday, students at UT Austin will be able to carry a gun into a classroom but not into the dormitories (with some exceptions). Fenves has to comply with the state's new campus-carry law (which goes into effect August 1) that allows any licensed gun holder to carry a concealed weapon into public-university buildings. Universities are allowed to designate limited "gun-free zones," and dorms are on that list. Dining halls are not.
In separate letters to UT system chancellor Bill McRaven — a former head of the U.S. Special Operations Command who was in charge of the raid that killed Osama bin Laden — and the UT community, Fenves said his objection to the new law has made writing these guidelines the toughest thing he's had to do since becoming president last year. "The presence of handguns at an institution of higher learning is contrary to our mission of education and research, which is based on inquiry, free speech, and debate," Fenves wrote in his letter to McRaven, who like Fenves opposed the law. "As a professor, I understand the deep concerns raised by so many … However, as president, I have an obligation to uphold the law," he added in the letter to the community.
Under the new UT guidelines, gun owners on campus have to carry their firearms concealed, without a round in the chamber and in trigger-protecting holsters. (The state's open-carry laws do not apply to college campuses.) Guns will also not be allowed at campus day-care centers, labs with sensitive materials, or health-care or counseling centers. However, gun-licensed family members visiting students will be allowed to hang on to their guns inside dorm buildings, as will staff members.
Fenves's task force decided that a classroom ban was unworkable, as some students come to campus only to attend class and thus would effectively be banned from carrying, which would flout the law. Dr. Steven Weinberg, a Nobel Prize–winning particle physicist, has said that he will not allow any guns in his classes. (Private schools in the state were given the option to opt into the new law; so far, none has, and 24 have explicitly said no.) The UT system's board will review the guidelines later this spring. It is estimated that fewer than one percent of students are licensed to carry.