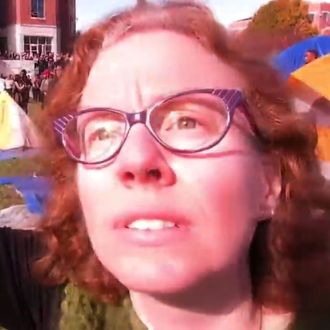 Click called for "some muscle" to oust student journalists.
Melissa Click, the communications professor at the University of Missouri who was catapulted into the national spotlight after she shoved a student journalist during protests in November, has been fired. According to the Columbia Missourian, the University of Missouri Board of Curators voted 4–2 to terminate her employment during a meeting Wednesday night. "The board believes that Dr. Click's conduct was not compatible with university policies and did not meet expectations for a university faculty member," it said in a statement released Thursday. The board's decision comes about a month after Click was suspended pending an investigation, and after prosecutor Steve Richey filed (and eventually dropped) a misdemeanor assault charge against her. It also probably had something to do with Missouri lawmakers' proposal to cut $8 million in funds from the UM system, including Click's $57,798-a-year salary.
Click — who, awkwardly enough, counts social media among her fields of study — unwittingly became the face of a larger debate about First Amendment rights and political correctness when Twitter got hold of a video in which she called for "some muscle" to remove MU senior Mark Schierbecker from the quad on November 9. She later apologized, calling her actions "spontaneous, instinctive, and regrettable" and saying she was "overwhelmed and flustered."
Unfortunately for Click, her apology coincided with the release of a second video: police body-cam footage showing her confronting officers at the MU homecoming parade in October. "Her conduct and behavior are appalling, and I am not only disappointed, I am angry, that a member of our faculty acted this way," said interim chancellor Hank Foley in a statement the day after the second video surfaced. "Her actions are just another example of a pattern of misconduct."
So Click had become a liability, but ultimately the decision to fire her seems to have been framed as a financial one. Two weeks after Missouri lawmakers voted to exclude the University of Missouri from a statewide $55.6 million budget increase, they also announced a proposal to cut $8 million from the MU system's budget — about $400,000 of which would be taken directly from the the university. Although lawmakers claimed the proposal wasn't just about Click, that $400,000 is about equal to her salary plus the salary of a chair in the Department of Communication (where Click works) plus that of the dean of the College of Arts and Science. (The fate of Click's colleagues is unclear.) "Recent events have proved to Missourians that existing performance measures are not the only indicators of a university's performance," said Tom Flanigan, who chairs the budget committee. He also said the cuts "are intended to send a strong message to the administration without harming our students, who deserve better."
In its statement, the board makes sure to mention it "went to significant lengths to ensure fairness and due process for Dr. Click," including interviewing her twice, hearing testimony from dozens of witnesses, and giving her the chance to respond to the allegations against her. She also has the right to appeal the curators' decision.