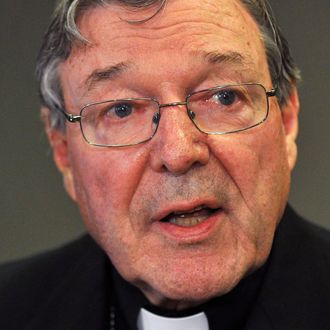 Pell oversaw a notorious diocese in Australia.
Photo: Paul Miller/Corbis
Cardinal George Pell, the Vatican's treasurer and its third most powerful clergyman, testified — cautiously and somewhat evasively — on Sunday about sexual abuse in the Roman Catholic Church. Pell told Australia's Royal Commission Into Institutional Responses to Child Sexual Abuse that the church had "mucked things up," and "has let people down." Pell is the highest-ranking church official to ever testify about the church's history of sexual abuse. (By coincidence, Spotlight — the film about the Boston investigation into the scandal — won the Best Picture Oscar later that night.)
"I am not here to defend the indefensible," Pell said to start his testimony. "Unfortunately, original sin is alive and well. There's tendency to evil in the Catholic Church too, and sometimes it's better, sometimes it's worse, but for good or for ill, the church follows the patterns of the societies in which it lives."
Pell was not well enough to actually travel to Australia, so he gave his testimony via video conference, responding to questions about sexual abuses that took place in the diocese near Melbourne where he was senior priest and vicar from 1973 to 1983. Australia's most notoriously pedophilic priest, Gerald Ridsdale, worked there while Pell was in charge. Ridsdale has been convicted of abusing more than 50 children over three decades.
Pell said that over the years he had usually been "inclined to accept" his priests' denials, saying that the church should have more aggressively investigated their cases of abuse. When he was pressed on specific cases, some from 40 years ago, he said he could not remember them, claiming he must be having "a senior moment." 
Outside the Vatican, protestors held signs saying "Pope Sack Pell Now," and "Pell got hell." Ridsdale's nephew, Dominic Ridsdale, who stood with a group of survivors, told NBC News that Pell had missed an opportunity to help people. "[Pell] could have changed many things — he would have saved so many lives. Too many people have committed suicide for these abuses, and that's why we are here today."