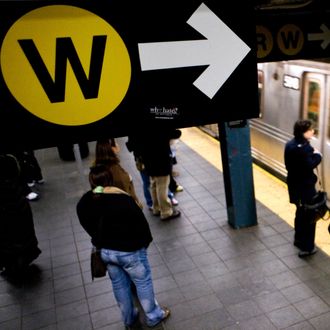 Photo: Ramin Talaie/AFP/Getty Images
The W train last rolled into Astoria in 2010, after which the MTA axed it along with the V. But the transit authority announced Friday that it's planning on bringing the W back this fall, in advance of the 97-years-in-the-making dedication of Phase I of the Second Avenue subway. The first stations on Second Avenue will (for now) open in December, and they will be served by the Q, which will turn onto the Upper East Side rather than continue into Queens. So the W will take its place on the run out to Astoria once that happens. It won't run on weekends or late at night (like the current Q in Queens). The return of the W will also mean changes to two other lines, via Second Avenue Sagas:
• N trains will run express in Manhattan between 34th St. – Herald Square and Canal St. on weekdays. N trains will run local on weekends and late nights.

• Q trains will run express to 57th St./7th Ave. until the Second Ave. Subway opens, and then, Q trains will run to 96th St./2nd Ave. with additional stops at Lexington Ave./63rd St., 72nd St./2nd Ave. and 86th St./2nd Ave. The Q will not stop at 49th St.
New York City Transit has proposed holding a public hearing this spring to discuss the changes, in order to implement them in the fall.
When the W was retired in 2010, riders held a traveling party of sorts on its final trip to Astoria. Via the Times:
The W's valedictory journey took on the vibe of a New Orleans funeral. Ms. Carames, the conductor, took the troubles in stride: the twentysomethings who piled into the back car with piña coladas and acoustic guitars; the hipster who screamed, "Murderer!" in her face as she made her way along the car during her last inspections. Perhaps it was a joke, but given public attitudes toward the transportation authority, it did not strike Ms. Carames as particularly funny. "I knew it was going to be a bit of a madhouse," she said.
Bet that screaming hipster feels like an idiot now (though we hope he felt like an idiot then, too).