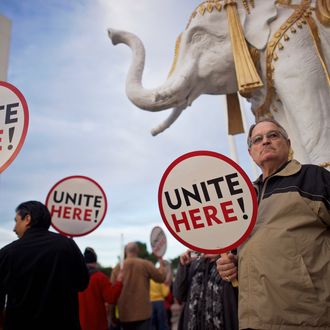 Trusting management is a gamble.
Photo: Mark Makela / Reuters
Given the clandestine nature of the work, it was best not to meet near the union hall, Tom said over the phone. Instead, we met on Hanover Street in Boston's North End. Tom sat coolly on the crossbar of his bike waiting for me. He wore a newsboy cap atop a thicket of blond hair. Cheap sunglasses hung from the neck of his green collared shirt, the sleeves of which were rolled up, exposing the word unity tattooed on the inside of his left forearm. It was a strange way to begin what was essentially a job interview.
This was the summer of 2009, the supposed "end" of the recession, and Tom had been working as a cook at a swanky corporate hotel in Boston. He was a salt, a union activist who plants himself in a nonunion workplace to organize it from the inside. 
Salting, in some form or another, has been around as long as organized labor. In the 1860s, the Rochester Trades Assembly began sending "agents" to organize nonunion construction jobs. Salts were leftists, Mexican immigrants, Jewish seamstresses, communists, and socialists. But as unions grew and added full-time staff organizers, the tactic's popularity waned. Unite Here, one of the biggest service unions in the country, had revived the practice of salting, marketing it to young activists, to organize hotels, casinos, and airports — workplaces owned by megacorporations hostile to unionization. As the country's economy became increasingly dependent on the service industry, I wanted to know what salts were doing on the front lines of the fight for the working class. But salts don't like to talk about salting. So, to find out what it was really like, I decided to salt. 
My interview with Tom went well, and soon after I moved to Miami to join an effort organizing racetrack casinos. Florida voters had recently approved a number of "racinos," dog and horse tracks operating slot machines. As part of their crusade to legalize the slot machines, they had enlisted Unite Here's help to lobby lawmakers and voters. The casinos' partnership with the union hinted at the creation of quality middle-class jobs. In return, the racetracks agreed to stay out of the way of the union's organizing campaigns.
With paid time off, health insurance, and a 401k, the casino jobs may have been better than other low-wage work, but they were far from middle-class. My co-workers hustled to make $20,000 a year before health insurance (which many opted out of) and 401k contributions (which almost no one made). Some co-workers made even less. Despite the neutrality agreements, the prospects of unionization seemed distant. Once slot machines were legalized, the casinos challenged the agreements in court. When they were upheld, a few of the casinos still ran anti-union campaigns. The consequences of doing so were negligible — the union was weak and the laws watered-down.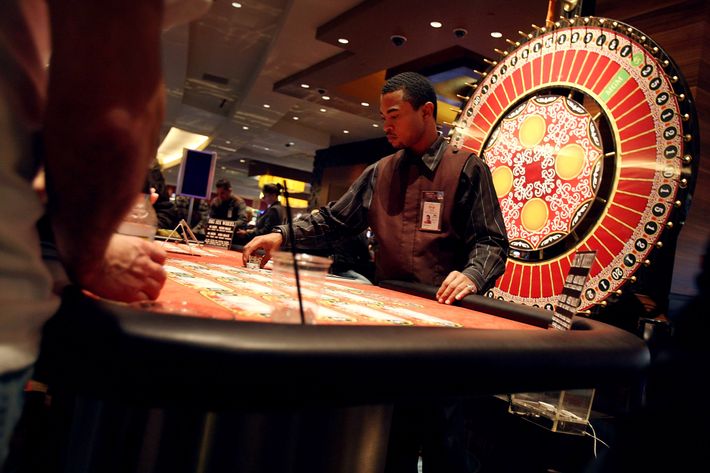 When I arrived in Miami, I reported to Sarah, one of two union organizers who traveled the country developing the salt program. It was her job to get salts hired at the targets. Sarah instructed me to clean up. I got a haircut and shaved for the first time in months. "Oh God, you look like a manager," she said the first day she picked me up in her rental car, eyeing my suit and beardless cheeks. She shuttled me to every hotel, casino, restaurant, and bar in Miami-Dade while listening to a mix of Mariah Carey's greatest hits, the only CD she had with her. I was practicing for the targets, rehearsing cheesy conversations hoping managers would connect my smiling face to my résumé.
Our salt team in South Florida was a motley brood of young activists from around the country. There was Erika, a punk rocker from Miami who had been working at a shampoo shop in the mall. Her demeanor could switch between professional and a somewhat ironic bubble-gum Valley girl with surprising ease, an asset that made her the casino's most popular bartender. There was Mary, a smiley Wisconsinite who grew up on a farm (the Wisconsin State Fair occupied a line on her résumé); Colette, a Nigerian-American Yale graduate who had been inspired to salt after writing a senior thesis on black communists; and Luke, a young, happily aimless recent graduate from the University of Tennessee. Others followed. None of us were paid by the union, though they met frequently with us to guide our progress.
Through Sarah, I met Dan Connolly, the only other Unite Here employee working full-time on the salt program. In fact, Dan had built it. (Sarah and Dan estimated there were about 200 salts working in hotels and casinos at that time.) When I talked to Dan on the phone before moving to Florida, I conjured up a picture of a brawny union man from a different era, a standing portrait of gritty America: Dan Connolly, the Irish proletarian. He may have been Irish, but the real Dan Connolly was proof that mobsters and steelworkers no longer epitomize the union profile. Dan was gentle, more bookish than brutish. He'd once wanted to work in science and children's entertainment, be the next Bill Nye the Science Guy, but after losing the fight to unionize a children's museum where he'd worked, he decided to spend his life fighting for workers' rights. "Salts are like crack for these hospitality companies," Dan told me. "They look at us and say, 'This person is too good to be true.' And they're right. We are too good to be true. But they can't resist. They just have to shoot up."
He was right. All three casinos the union was targeting offered me jobs. I worked as a buffet server at one before quitting and taking a job as a bartender at another, a notoriously anti-union dog track called Mardi Gras Casino. I spent my afternoons handing out free bottled water and loading cocktail waitresses' trays with $1 drafts. As a salt, my job was, first, to gather basic intelligence on the workplace — lists of co-workers' names, work shifts, cranky managers — and, second, to identify potential leaders and get to know them. When a union organizer went to recruit that leader (most of whom were women) to the union committee, the organizer would do so armed with the intel I provided. To this end I hung out with as many co-workers as possible. I went to the batting cages, bowling, and a new-age Nichiren Buddhism retreat center. I learned to cook chicken curry and griot, a Haitian pork dish. I learned about co-workers' bad backs, unfaithful spouses, and strange tattoos. Most of all, I learned how hard it was to get by on $10 an hour, sometimes less. 
At times, salting felt like an unstoppable force. We knew the companies' employees better than management ever had. But at a company like Mardi Gras, none of our preparation mattered. Even with salts, the union had little ability to outmaneuver management — despite management having explicitly agreed to not oppose unionization.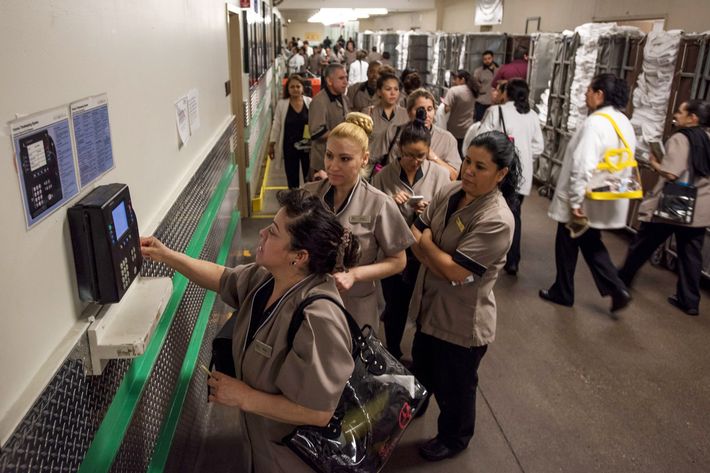 Mardi Gras was a rush campaign. Colette and I had gotten jobs there in early September, and we needed to organize by the end of the year, when the neutrality agreement expired. We held our first committee meeting in late October. Though Colette and I had only known our co-workers for two months, we were both added to the leadership committee's ranks. Walking into the union office that day, I needed to treat the people I knew (the union organizers) like strangers, even though I had spent more time with them than any of the committee members (my Mardi Gras co-workers). As soon as I entered the conference room I saw Saraphina, a Haitian cage cashier I'd recommended to the organizer assembling the committee. She walked across the room and gave me a warm hug. "I'm so glad you're here," she said. She didn't remember my name, but I didn't care.
I took a seat next to Colette, who had arrived early so we wouldn't be connected. Everyone was quiet and anxious. Wendi, the head of Local 355, started the meeting by introducing herself. Going around the room, we each said why we believed Mardi Gras employees needed a union. At first people were sheepish and awkward. Then Benita, a housekeeper, spoke. She started slowly, in Creole. Then her pace quickened. Rozaline, a Haitian organizer, tried to slow her down to translate, but Benita was getting agitated. She got louder. Everyone began to nod along with her, even those of us who didn't speak a word of Creole. When Benita stopped, everyone clapped and cheered.
"She says that this company don't treat anyone with respect," Rozaline translated. "She says sometimes customers treat her bad, but if Mardi Gras don't respect her, customers won't. She says the money is bad, the insurance is bad, the supervisors are bad." Benita spoke again. "She says, 'They don't listen, and I just want to be heard.'" Everyone clapped again.
"It is about respect," Harriet, a middle-aged slot attendant, said. "I mean, this company doesn't do anything for you. I work really hard for them. I don't just pay out jackpots, I clean up garbage. I literally take elderly and handicapped people to the bathroom. The company never does anything for us." Heads continued to bob along. "I got a five-cent raise," Harriet added. "How insulting is that? Well, actually, they cut all the slot attendants' pay 'cause they thought we were making too much. Then I got a five-cent raise. I mean, we're out there hustlin' for you. How could you do that to us?"
No one was asked to sign a card that day. Instead, a union organizer, Alex, explained the importance of a strong leadership committee. Over the next week, he told us, we needed to recruit more leaders by visiting them at their homes. It was important not to talk about the union at work; our campaign was still underground. In a sense, all of the committee members would be salts for now. Once we had more committee members, our pictures would be assembled on a flyer and distributed to all employees like a great coming-out party.
During the campaign, the salt team met regularly to strategize. Sometimes we debated the implications of salting, whether we were engaged in low-wage voyeurism, pseudo-solidarity, or motivated by some form of privilege shame. I heard one salt proudly declare himself a "class traitor," dismantling the system that he had benefited from. For the majority of salts, however, our covert activism wasn't such a dramatic endeavor. Most of the salts I worked with came from middle-class families and had liberal-arts degrees that had afforded them few solid job options. After months of browsing nonprofit-job boards, salting had sounded like a good opportunity. Still, some dwelled on the paternalistic nature of our effort — a bunch of mostly white, college-educated carpetbaggers covertly descending into low-wage jobs to tell workers what was best for them. "You guys don't fucking treat people like people," one irate salt told me just before she quit the program.
A week after the leadership-committee meeting, Colette was fired. A co-worker had told a manager that she had shown up at his house. Management told Colette, a cocktail waitress, that she had been caught "loitering" during an unauthorized break. At a committee meeting the next day, Wendi explained that the company had fired Colette not simply because she was pro-union, but because it sent a message to everyone else. "Fear is the only weapon this company has to use on workers. If we eliminate fear, we can do anything," she said.
The following Monday Saraphina reported for work and was told to go to human resources. The head of the department was waiting for her. "I'm sorry. We have to let you go." They told her the decision had come from above them.
The next day I joined Colette and a union organizer, Bridget, on house visits to talk to employees about the union. Dante, a server in the French Quarter restaurant on the third floor of the casino, was the last person we visited that day. He was walking his lapdog when we pulled up to his mobile home. When Dante saw Colette in the passenger seat, he started power walking toward his front door. Colette jumped out of the car and ran after him. By the time I arrived, Dante's hands, steady when I loaded his tray with cocktails, were shaking. He was kind and jovial at work, but standing outside of his home he was a portrait of fear.
"The company knows you're here," he said, his voice cracking. Behind his glasses, Dante's eyes looked past us, scouting the horizon. "They know you're at my house right now, these people … they know everything." He was wearing his black work slacks and a black T-shirt. His hair was gelled.
"The company doesn't know we're here," Colette assured him. Dante inched toward his screen door. There was a long pause. Bridget stood quietly between Colette and me. "It's important that we talk," Colette pleaded. "You know I was fired last week, right? That's why you're scared?"
"I heard about that. I'm sorry, but I can't lose my job right now, I have bills." His Argentine accent swelled as he became more agitated. "I know the union is a good thing, pero you have no shot. Life is no good at Mardi Gras, but if they know you are here, I'm done. They fucking do not care about us. Any day at that place could be your last."
It was the first time I saw the kind of fear that Wendi had talked about. Over the past few weeks, I'd begun to get frustrated by workers' hesitance to join the fight for the union — Don't you understand? This is your chance for a better life! Seeing Dante was sobering. I knew about roller-coaster fear. I'd watched Scream, Scream 2, and Scream 3. When I first got my driver's license, I'd felt my heart jump when my car hydroplaned. But I'd never experienced the kind of fear that Dante exhibited. Whenever he swiped his credit card at the grocery store. Or when he felt a scratch at the back of his throat and worried about taking a sick day. Or when his engine made that ripping and banging sound. That fear could make him run, hide, or do something stupid. He might tell the company I was there, in the hope of currying favor. We were counting on the fear to make him do something bold.
As we were about to leave, Dante turned to me. "You still working there?"
"Yeah. Why? Do you know something I don't?"
"No, just wondering."
That night I started my shift just like I would any other. I turned on the sports bar's 15 TVs that got me through comically slow nights, stocked the coolers with beers that wouldn't sell, wiped down the bar top, and filled the well with ice. I had just finished a double-check on the beer inventory when I almost bumped into Sally, the director of the food and beverage department.
"James." She messed with the overhead projector's remote, trying to turn down the volume. I showed her how to do it. She took a deep breath and started over. "Okay, now, James, I need you to come with me."
The moment Sally opened her mouth everything stopped. She led me to an office barely big enough for a small table where Jay, my manager, sat. A large security guard leaned against the wall behind Jay. Steven Feinberg, the head of human resources, was the last to arrive. Colette had described him as "meek" and "puny." He was a twiggish ball of nerves. I don't know how many people Feinberg had sacked, but he was shaking as if he'd been visited by the ghosts of employees past. He didn't look at me.
"James," Jay said, "you've been with us for two months now, right? As you know, we have a 90-day probationary period and … we've decided we no longer want to keep you on … so we're terminating you, your employment."
I asked for a reason, but they wouldn't give me one. A researcher at Local 355 would tell me later that the "probationary period" excuse was probably advice from Mardi Gras's lawyers. Fabricating a reason would require proof in court. The 90-day probationary period was a free pass.
"I know I've done a good job." It was true, but I wasn't pleading. I was trying to catch them, and I was failing. Feinberg chimed in. "The company's policy is to do an evaluation within 90 days and— "
"Can I see the evaluation?"
"It was an observed evaluation, and it wasn't satisfactory." I felt desperate to trap them, but my attempts at logical thinking had already been swallowed by outrage. Why hadn't I planned the perfect response? Why didn't I talk to a lawyer? Finally, I asked, "Is this based on my union involvement?"
Steven looked away. "No, we're not even allowed to talk about that. It's just a decision that was made." The silence and blank stares were an open invitation to ask more questions. But I had nothing. The guard took my ID. I asked when I should return my uniform. "Whenever you have time. But be sure to call ahead," said Steven. Since then I've received two letters asking that I return it, but I still haven't. Sometimes I wear the glittery orange vest when I drink.
Adapted from Playing Against the House: The Dramatic World of an Undercover Union Organizer, out this month from Scribner. Certain names and identifying details have been changed.