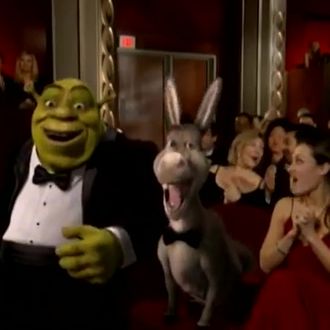 In 2001, the Academy of Motion Picture Arts and Sciences decided to create a new Oscar category, Best Animated Feature. The award and the prestige it held came at an interesting time for Hollywood, which was aggressively, but also reluctantly, transitioning away from hand-drawn 2-D animation and toward 3-D computer-generated imagery. Just six years prior, the first Toy Story took the world by storm. The Academy had long neglected animated films (it was a big deal when Beauty and the Beast was nominated for Best Picture), which for the most part were aimed at young children and did not carry any prestige.
But all of that changed at the 74th Academy Awards, when three films were nominated for the first Best Animated Feature Oscar. Not by coincidence, those three films — Shrek, Monsters, Inc., and Jimmy Neutron: Boy Genius — are also major players in the modern memescape. Shrek might have taken top honors, but all three films have had odd internet afterlives.

Shrek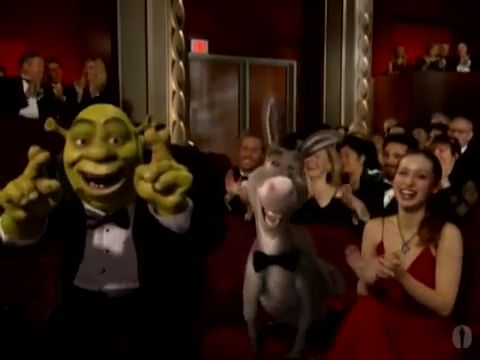 Shrek is the most visible hustler in the meme game. "Shrek is love, Shrek is life," as the saying goes. Articulating why Shrek continues to appeal to the Tumblr crowd in 2016 is tough to articulate. Shrek movies, once a financial bulwark for Dreamworks, have since stalled out. Shrek 2, which until recently held a spot in the top-ten highest-grossing movies of all time, made $440 million domestically, but the fourth installment, Shrek Forever After, took in a little more than half of that. A spinoff Puss in Boots film barely made back its production budget, and was almost certainly a loss for the studio when factoring in the accompanying marketing push.
Yet for forms of comedy native to the web — the detached, self-deprecating voice often seen on Tumblr and in pockets of Twitter — Shrek never left. The rise of Shrek is relatively recent, stemming from a single NSFW post on 4chan that has since spiraled into a full-on fandom, a parody of brony culture in which die-hard Shrek fans refer to themselves as "brogres." For a short while, they even had their own imageboard, known as ShrekChan.
Shrek occupies the same space in my mind as, I'd guess, Good Charlotte? Like, in retrospect, it's bad, but at the time, it was good. From 2001 to 2006 or so, I think everybody loved Shrek. He was cheeky and bawdy and didn't take no crap, but he not-so-secretly had a heart of gold. Fifteen years ago, mixing contemporary pop culture (e.g., Smash Mouth's "All Star") with classic fairy tales was inventive. Now, "Disney Princesses As …" is a behemoth genre of viral content unto itself. Shrek, in some ways, kickstarted the mash-up culture that is now the internet's lingua franca.
Despite Shrek's clear popularity among social media's most avid users, his creators are less aware of their impact. Terry Rossio, one of four screenwriters who contributed to the first film, says, "Usually I am full of opinions. But in this case … no, I'm not familiar with the meme subculture. And I don't quite know what to make of it."
Jimmy Neutron: Boy Genius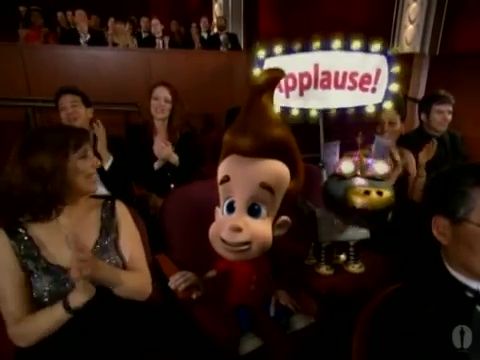 Though you have to look a bit harder, Jimmy Neutron is revered in a similar, post-ironic way. The Facebook page Why helo it is i jimbles notronbo — 116,000 likes strong — has been serving up grammatically incorrect Bizarro Jimmy speech for two and a half years.
Neutron, like Shrek, also has his own poorly animated machinima fan film.
Of the three films nominated for the first Best Animated Feature award, Jimmy Neutron has probably aged the most poorly, in part because the film was meant to launch an animated series on Nickelodeon. The ensuing result on the memescape is two-fold: There is an entire series' worth of material to mine for memes and jokes, and TV animation budgets are thriftier than a major motion picture. In other words, there is a lot of crappy Jimmy Neutron material out there, all of which is regarded with a nostalgic fondness by a larger-than-you-think subset of teens.
Monsters, Inc.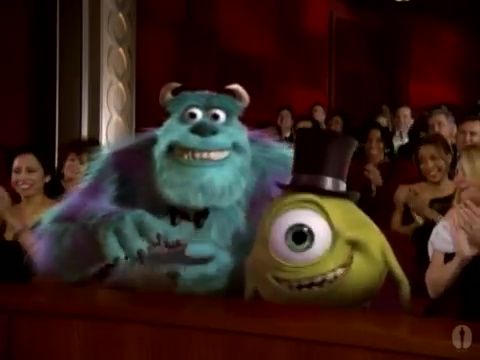 The ironic appeal of Shrek and Jimmy Neutron is further typified by our last Oscar nominee, Monsters, Inc., specifically the character Mike Wazowski. One of the most popular blogs on Tumblr is Blurry Pictures of Mike Wazowski, which features exactly what it sounds like. Freeze-frames of Monsters, Inc. that capture Mike in awkward and unflattering poses. In the process, Mike has become a Tumblr demigod, another vessel through which the young and anxious channel their neurotic tendencies.
It's easy to browse through the glut of Mike Wazowski content on Tumblr and respond to every meme, every macro with "me irl."
Which brings us to the crux of the matter: All three of these films look terrible. The early 2000s computer-animation boom was cutting-edge at the time, but now looks extremely dated. All of the textures look plastic-y, facial expressions are uncanny. The embrace of crappy computer-generated imagery is at once nostalgic fondness ("reminds me of childhood!") and rebuke ("looks like shit!").
What was once cutting-edge is now crappy and busted. Have you watched a Shrek film recently? The brash, edgy vibe of 2001 doesn't really fly anymore, nor does the animation quality of Jimmy Neutron, which was spun off into a television series. Monsters, Inc., by virtue of being a Pixar film, has aged the best, but it still looks dated by comparison. For a crowd of people (millennials, one might say), who came of age online in the early '00s, ridiculing these outdated relics is a way of paying tribute. And 14 years ago, the Oscars did exactly the same thing, but with complete sincerity and terrible CGI.