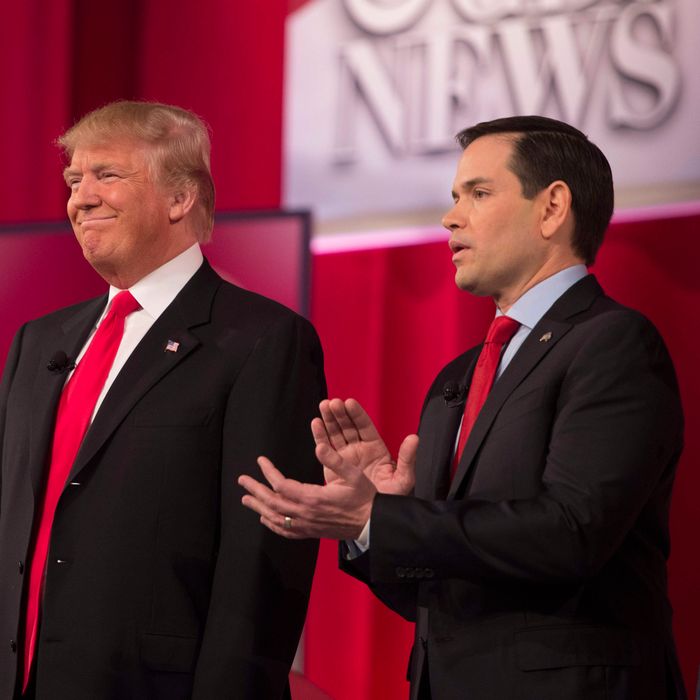 They don't have Jeb Bush to kick around anymore.
Photo: JIM WATSON/AFP/Getty Images
Congratulations, America: We've made it to our tenth Republican debate! (It feels like there should be some sort of prize, but there isn't.) On Thursday night, we'll see the GOP candidates face off for the last time before voters head to the polls on Super Tuesday. This is also the first debate since Donald Trump secured his front-runner status with wins in South Carolina and Nevada, and Jeb Bush exited the race. We doubt that anyone can recapture the magic that was Trump calling Bush "low energy" as the governor spat back overly rehearsed one-liners, but the ex–reality star is already suggesting that this may be the night he makes Marco Rubio cry backstage. Here's a guide to get you up to speed, and be sure to tune in tonight for Daily Intelligencer's liveblog and complete debate coverage.
When and where is the debate being held?
Thursday at 8:30 p.m. ET at the University of Houston.
Why is this debate being held?
Originally NBC was set to host a Republican debate in Houston on Friday, but in January, the Republican National Committee announced that it was cutting ties with the network. They didn't say exactly why, but presumably it had something to do with the CNBC debate in October, in which the candidates staged a coup against the ostensibly unfair moderators.
The switch from NBC to CNN means that by the end of the primary cycle, the cable-news network will have hosted at least four GOP debates (they were already scheduled to host another one next month). Initially, it looked like the debate would include nearly as many media outlets as candidates. CNN's GOP debates always include their conservative partner Salem Media Group and as part of the deal, they had to work with NBC's former partners Telemundo and National Review. However, the magazine was disinvited after it published a special anti-Trump issue.
How can I watch it?
The debate will air on CNN, CNN International, CNN en Español, and it will be translated live on Telemundo. Cord-cutters can watch on CNN.com and all of the network's mobile platforms, with no login required.
Who will be there?
All of the remaining Republican candidates: Donald Trump, Marco Rubio, Ted Cruz, Ben Carson, and John Kasich.
Who's moderating?
CNN's Wolf Blitzer will moderate, and there will be additional questions from Telemundo News anchor María Celeste Arrarás, Salem talk-radio host Hugh Hewitt, and CNN correspondent Dana Bash.
What will the stage look like?
When this election got started CNN tried to impress us with Air Force One jets. Now they're reusing the same graphics and podiums from the last debate.
How will the location influence the debate?
The Houston Chronicle predicts that there will be questions on trade, NASA, the NFL (Houston will host the next Super Bowl), and the oil and gas industry, which employs about 25 percent of city residents. And, of course, there's immigration and a certain candidate's beautiful and classy border wall.
Texas will award 155 Republican delegates, which makes it the most important Super Tuesday state for Republicans. Cruz is not doing as well as expected in his home state. The Real Clear Politics average has him leading the state with 32.3 percent of the vote, followed by Trump at 26.3 percent and Rubio at 16.3 percent. But despite a slew of endorsements from other Texas politicians, some recent polls give Cruz only a one point advantage over Trump. If Trump manages to win in Texas, it will be a huge blow to Cruz's campaign. Texas allots delegates in a complicated manner, so even a close first-place finish might spell trouble for Cruz.
How are the candidates preparing?
By participating in a forum in Houston hosted by Fox News' Megyn Kelly. On Wednesday night, both Cruz and Rubio took shots at Trump, whose campaign said he was too busy to participate. (Kasich and Carson were there, but the most notable thing about their appearance was their insistence that they won't be dropping out anytime soon.)
Cruz called on Republicans to rally around him, and, referencing his Iowa caucus win, declared that his is "the only campaign that can beat Donald [and] has beat Donald."
Rubio kept trying to spin his string of second-place finishes into a strength, saying, Trump is "the front-runner and I'm the underdog, but I've been an underdog my entire life." He added that his campaign "would not allow the conservative movement to be defined by a nominee who isn't a conservative."
So there's going to be a lot of fighting at the debate?
It seems highly likely. Rubio, who has mostly avoided skirmishes with Trump up to this point, called Trump out at a rally earlier in the day, saying he "thinks parts of Obamacare are pretty good," and should be taking sides in the Middle East conflict "because the Palestinian Authority, which has strong links to terror, they teach little kids that it's a glorious thing to kill Jews."
Rubio even got in a tricky Trump/Obama joint insult. "You can't just say, 'Well, when I get there I'll hire the smartest people and they're going to tell me what to do,'" Rubio said. "The smartest people are already there. They're already telling the president what he should be doing. He's ignoring it. You deserve to know exactly what the next commander-in-chief is going to do."
As for Trump, he remained focused on attacking Cruz, who he called a "nervous wreck," during a CNN interview on Wednesday. But he did note that he's beating Rubio in his home state of Florida, and issued a vague threat when given the opportunity to attack the senator. "I think I'll save that for tomorrow night. We have to keep some good action for tomorrow night," Trump said, noting that the candidates who have tried to attack him "have not done very well against me."