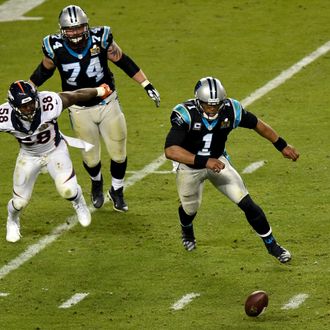 Cam Newton, after fumbling in the fourth quarter on Sunday.
Photo: Thearon W. Henderson/Getty Images
We'd already learned the reason behind Eli Manning's blank Super Bowl stare, and now another mystery from Sunday's game has been solved. Late in the fourth quarter, with Carolina still down by just six, Panthers quarterback Cam Newton fumbled the ball before he could get off a pass, and when the ball hit the ground, he didn't dive after it. He's been criticized for the decision not to do whatever he could to recover the ball in such a big situation, and today he explained to reporters that he didn't jump into the scrum to avoid a potential injury, while also defending himself against attacks that he didn't show enough effort.
"I don't dive for one fumble, because the way my leg was, it could have been contorted in a way," said Newton on Tuesday. "You say my effort. I didn't dive down. I fumbled, that's fine. But at the end of the day, that game wasn't built off of, we didn't lose the game because of that fumble, I can tell you that."
The Panthers faced a third-and-nine when Newton fumbled the ball with 4:12 remaining at about his own 15-yard line. The Broncos would recover that fumble and score another touchdown to seal the game.
Newton seemingly believed he's being singled out for that decision, and referenced how other quarterbacks sometimes don't show full effort. "I didn't get the fumble, but we can play tit-for-tat," he said. "I see numerous quarterbacks throw interceptions and their effort afterwards, they don't go." Here are Newton's full remarks, via the NFL Network: