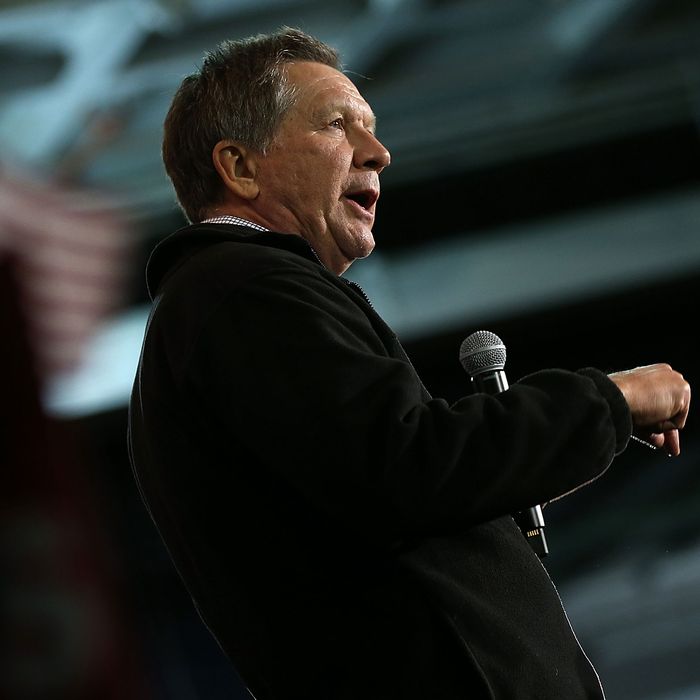 John Kasich, potential survivor of the post-apocalyptic Republican primary.
Photo: Win McNamee/Getty Images
Marco Rubio has reprogrammed his political strategy overnight. Before Thursday's debate, his strategy relied on making himself the candidate of pan-Republicanism. His favorite and most crowd-pleasing line in debates was "I like everybody on the stage. No one is a socialist. No one here is under FBI investigation." As recently as hours before the debate, he (or his campaign) was still using the message "I am committed to running a positive campaign." Rubio ditched that strategy during the debate, debuting numerous new attack lines against Donald Trump. The next day, he escalated dramatically, calling Trump a "con man," taunting that the front-runner had peed his pants during the debate, and impugning the length of his sexual organ. This was probably the only strategy available for Rubio at this point; he needs to stop Trump soon before he runs away with the race. But it also carries risks for Rubio himself.
The old Rubio strategy was not successful at winning primaries, but it was successful at making people like Rubio. Rubio has ranked at or near the top of lists of voters' favorite second-choice candidates. As Nate Cohn points out, Rubio has time to catch up and overtake Trump, even if he loses every state on Super Tuesday. But Rubio's strategy hinges upon successfully taking down Trump without losing his own currently wide, but relatively shallow, base of support. Will Republicans still like the new, mean, pee-pants-calling, dick-length-mocking Rubio just as much as the old, winsome version? Maybe so.
But reporters already located Rubio supporters discomfited by the new version of the candidate they had selected. (The Washington Examiner: "'I liked him until he got down in the mud with Trump,' Paul Eveland told me before the Rubio rally. While his wife, Ceci, is behind Rubio, Paul is undecided. Ceci granted that point: 'It's disrespectful to the office.'" The Washington Post: "'I liked him better when he wasn't so … ' 'Slanderous,' her husband, Ken, finished.")
It is possible that Rubio's mockery will finally bring down Trump. But even if so, Rubio's popularity might come down along with him. In that case, the conflict will redound to the benefit of the candidate who is currently running the now-discarded Rubio game plan: John Kasich. The Ohio governor is using versions of the old, well-received Rubio message about refusing to attack fellow Republicans and bringing people together.
Kasich's failure to take hold in the campaign is slightly puzzling. Both Rubio and Kasich find themselves saddled with a single, large ideological deviation. Rubio co-sponsored, then abandoned, bipartisan immigration reform, while Kasich accepted Medicaid expansion. Kasich's heresy might be worse from the perspective of movement purists. After all, Rubio was merely following the official Republican post-election doctrine of getting immigration past the party in order to solve its Latino problem. Kasich had no such excusable partisan motive; he only wanted to help poor people get health insurance. His heresy suggests a troubling unwillingness to inflict the hardships upon the poor and sick that would be required to implement any form of Obamacare repeal or replacement with an alternative that leaves much skimpier coverage.
Still, that one large fault aside, Kasich has many positive qualities to offer as a nominee. He's an accomplished legislator and governor in a crucial swing state. His policy platform is rock-solidly reliable to the party's donor base, and he has a pleasant persona. In some ways, Kasich is an older version of Rubio. Where Rubio tells everybody he's the the son of a bartender, Kasich tells everybody he's the son of a mailman. Rubio opens demographic doors among nonwhite voters and the Sun Belt, while Kasich does so in the Midwest. His platform is the standard mix of Republicanism anchored around a gigantic, regressive tax cut.
Rubio's supporters have pressured Kasich to drop out of the race, but Kasich has no reason to do so. Rubio may have more Establishment support than Kasich, but both candidates have a trivial number of delegates so far, and Super Tuesday seems unlikely to change that. Rubio's Establishment support, furthermore, is predicated upon the popularity Rubio amassed by appealing across the party, an asset Rubio is now jeopardizing.
Here is a further irony. Rubio originally sponsored comprehensive immigration reform because, in the wake of the 2012 election, Republican elites sensed an existential demographic threat to their long-term well-being. They called upon Rubio to save them, and he answered the call. Instead, the party base revolted, and the debacle set back Rubio's career trajectory. Now Rubio has recovered, but party elites are calling on him once again to save them from an existential threat — this time in the form of a prospective Trump nomination — and Rubio is again risking his standing with many of the same voters who turned against him three years ago.
If Rubio manages to prevent Trump from winning a majority of the delegates, then Kasich will be poised to benefit. Suppose that on March 15, Kasich wins Ohio while Rubio loses Florida. Then Rubio (whose campaign has vowed to win his home state) might have to drop out, and Kasich might find himself positioned as the primary non-Trump candidate. Alternatively, if Kasich wins Ohio and Rubio wins Florida — or loses but decides to stay in the race anyway — then the fight could simply last until the convention.
And even if he brings few delegates to Cleveland, Kasich might wind up as the consensus choice. A bitter delegate fight to deny Trump the nomination will ultimately require the party to settle on a standard-bearer who can placate Trump — or, at least, his enthusiasts. And Kasich's strategy of making no enemies within the party generally, and of making nice with Trump in particular, would render him the perfect choice to heal the breach.