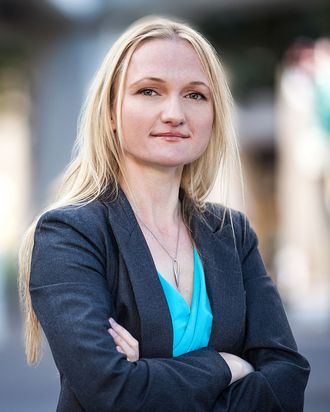 Wikimedia Foundation executive director Lila Tretikov resigned earlier today following a tense battle over the organization's proposed plans for a search engine. According to Motherboard, at issue was Tretikov's decision to launch "the internet's first transparent search engine … completely free of commercial interest." Wikimedia is the governing body that presides over Wikipedia.
The reported purpose of the search engine, dubbed the Knowledge Engine, was to combat decreasing traffic to the free encyclopedia (caused by a growing proportion of mobile browsing and Google's decision to put Wikipedia information directly into search results, negating the need to click through) though Wikimedia has officially clarified that its purpose was actually internal navigation. Many disagreed with the decision and others were perturbed by the project's lack of transparency — its very existence was a surprise. Wikimedia heads quickly tried to clarify that the project was about searching within the Wiki project, not competing with Google, but the seeds of doubt had already been planted.
Tretikov's role as executive director made her the most powerful higher-up at Wikimedia (founder Jimmy Wales's role is in a more advisory capacity). Internal discussions complained that communication with other members of the leadership and the editing community at large was not up to snuff.
In an email to the Wikimedia listserv, Tretikov wrote, "I move on with confidence that the Foundation can meet new challenges in a challenging environment." Who will succeed her is unclear, but the site's directors generally agree that the main priority now is earning back the community's trust.
Update: This posted has been edited to clarify the conflicting official and reported purposes of the Knowledge Engine.