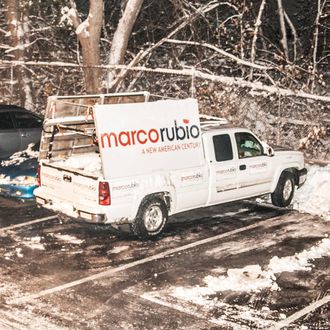 Photo: Konstantin Sergeyev
As if all those politicians and reporters weren't enough, New Hampshire will also have to accommodate several inches of snow ahead of Tuesday's primary. The latest forecast from Manchester's WMUR projects three to five inches across most of the state, and although the storm's peak is expected to pass by midnight Monday, bad weather is likely to linger into Tuesday.
New Hampshire is as familiar with snow removal as Marco Rubio is with his stump speech. But in the tight GOP race for second place, even a marginal impact on turnout could prove significant. (Donald Trump, in particular, draws disproportionate support from less reliable voters, although his 21-point lead should survive a few inches of snow.) The Hill speculates that wintry weather could give a slight lift to the trio of governors — Chris Christie, John Kasich, and Jeb Bush — who have spent more time and money on ground operations in the state than Rubio, Cruz, or Trump. On the Democratic side, the University of Massachusetts Lowell projects that a snow-hampered Tuesday would merely give Bernie Sanders a 15-point win over Hillary Clinton, instead of the 18-point victory he'd enjoy in the event of unusually high turnout.