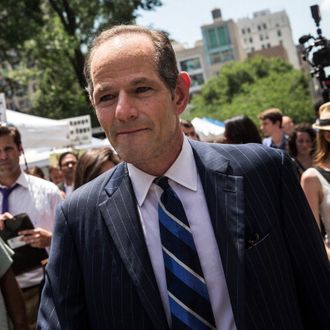 Photo: Andrew Burton/Getty Images
The NYPD is investigating a claim that former New York governor Eliot Spitzer assaulted a woman. According to several reports, the woman told the police that Spitzer choked her while the two were in a room at the Plaza Hotel on Saturday night. After the alleged attack, the accuser slit her wrists and had to be hospitalized.
From the New York Daily News:
The unidentified woman knew Spitzer for about two years, a source said. Believed to be in her 20s, she is from Russia and the two may have been arguing about her returning there. She made the allegations after police responded to the hospital. Spitzer was no longer at the hotel at that point, the source said.

The woman apparently doesn't want to press charges, but it's up to police and prosecutors to determine whether any charges will be filed.
CNN reports, "After she was taken to the hospital, the former governor showed up there, obscuring his face with a skull cap, according to the source. At the hospital, the source said, the woman told police that she and Spitzer had gotten into a verbal dispute that turned physical." She has reportedly since  returned to Russia. 
Spitzer spokesperson Lisa Linden told reporters, "There is no truth to the allegation."
Spitzer resigned from the governorship in 2008 after an investigation revealed that he'd paid for sex. More recently, he unsuccessfully ran for city comptroller.