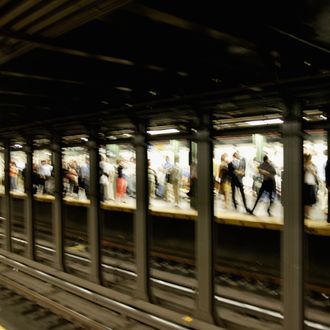 Photo: Andria Patino/Corbis? Corbis. All Rights Reserved.
Tired of being freaked out by New York's recent spate of slashings and stabbings but still feel the need to worry about frightening random crime? Go ahead and direct your attention to today's report of a woman who narrowly avoided being pushed in front of a subway car by a stranger on Thursday evening.
The NYPD says that the 35-year-old was standing on the 4/5 platform at Borough Hall when a man started yelling at her and telling her to get out of the station. As the woman tried to walk away, the man allegedly shoved her toward the tracks just as a train was pulling up. Luckily, the victim was able to save herself by grabbing onto a pillar. According to the New York Daily News: "When the doors opened, she ran on, then headed to Manhattan, leaving [her assailant] behind. The woman got off at Union Square and reported the attack to cops at the NYPD Transit District stationhouse located there."
Cops near Borough Hall quickly located the assailant, identified as 46-year-old Robert French. French, described as mentally ill and homeless, has reportedly been charged with reckless endangerment.