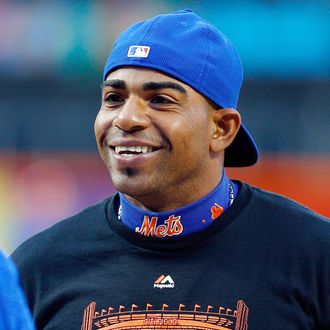 Yoenis Cespedes.
Photo: Mike Stobe/Getty Images
It's no surprise that extra attention is being paid to Mets spring training this year. After all, the team is considered one of the best teams in baseball a year after making a run to the World Series. What's been unexpected, however, is how much of the focus has been on their training complex's parking lot. Since arriving at camp last weekend, Yoenis Cespedes — the slugging outfielder who helped turn the Mets' season around in 2015, then signed a three-year, $75 million contract this winter to stay on — has been showing his car collection, which is insane. 
Cespedes arrived at camp Sunday, three days ahead of his official reporting date, driving a massive, custom Ford F-250 with near-monster-truck-size wheels. He's reportedly put $30,000 of work into the truck, which has a special lift suspension.
It wasn't until Tuesday, though, that Cespedes really got reporters to take notice. That day, he arrived driving an Avorza Polaris Slingshot, a three-wheel motorcycle that he's customized with his number, 52, on the hood.
On Wednesday, Cespedes drove a souped-up Lamborghini Aventador that's been customized to shoot flames out of the tailpipe. The car reportedly sells for $397,500, and that's before the $80,000 for upgrades, including the aforementioned fire-breathing.
Apparently he's not one of those guys who won't let anyone touch his car, either. On Wednesday, after expressing a preference for round waffles over the square ones served in the team's training facility (really), Cespedes asked a Mets staffer if she'd take his car and go buy a round-waffle-maker. (She went to Walmart, which didn't have any in stock, but had more success at Target.) Newsday notes that Cespedes has a number of eccentricities in addition to his breakfast preferences: He's been known to smoke cigarettes in the dugout before games, rarely takes batting practice with his teammates, and goes golfing on game days. But the paper says that "The Mets have accepted Cespedes' various quirks, and he repeatedly has cited his comfort level with the organization as one of the reasons that he returned."
On Wednesday, Cespedes said, "I don't have no more cars. That's it." It wasn't true. The next day, he showed up in an Alfa Romeo 8C Competizione that retails for about $250,000.
And you can listen to it here:
You thought he was done, right? Nope. On Friday, Cespedes closed out the week by driving what he calls his favorite car yet: a tricked-out Jeep, also customized with his number. Cespedes's auto dealer referred to it as "one of the craziest Jeeps I have ever built."
The value of the five vehicles reportedly comes to a little less than $1 million.