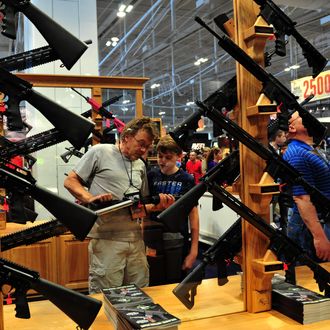 Photo: Karen Bleier/AFP/Getty Images
Chaos and violence are far from rarities at a certain GOP front-runner's rallies, but it seems Republican voters would like to up the ante. More than 40,000 people have singed a petition to allow guns at the Republican National Convention in Cleveland, Ohio, in July. The petition, creatively titled "Recognize Our Constitutional Right to Open Carry Firearms at the Republican National Convention at the Quicken Loans Arena in July 2016," decries the fact that, although Ohio is an open-carry state, Quicken's strict policies prevent anyone from carrying a weapon into the arena. 
"Without the right to protect themselves, those at the Quicken Loans Arena will be sitting ducks, utterly helpless against evil-doers, criminals or others who wish to threaten the American way of life," the petition reads before quoting each remaining Republican candidate's promise to eliminate gun-free zones. It goes on: 
We must take a stand. We cannot allow the national nominating convention of the party of Lincoln and Reagan to be hijacked by weakness and political correctness. The policies of the Quicken Loans Arena do not supersede the rights given to us by our Creator in the U.S. Constitution.
No one is quite sure whether the petition is intended as satire or whether it's in earnest, but at least one Republican candidate is taking the possibility of open-carry at the RNC seriously: Donald Trump told ABC's This Week that he'd "take a look at it." "I want to see what it says," he said. "I want to read the fine print. Nobody is stronger on the Second Amendment than me." 
Besides the Donald, the petition seems to have garnered support both from those who agree with its author and from those who'd love to see a large portion of the country's Republican party blow itself up.
The Twitter account for the site that posted the petition appears to be run by an extremely dedicated troll. But whether or not it's a fake, the petition demonstrates that some issues truly are bipartisan.