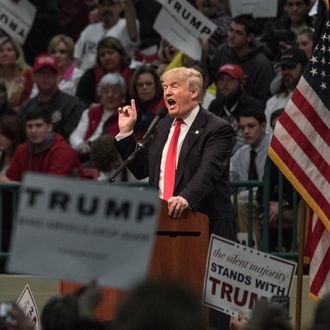 Behold, Donald Trump and his minions in North Carolina.
Photo: Sean Rayford/Getty Images
A rally for Donald Trump in Fayetteville, North Carolina, earlier this month turned violent when a ponytailed Trump supporter, later identified as 78-year-old John McGraw, sucker-punched a protester in the face. A video of the incident quickly made the rounds; in it McGraw lunges forward at an unsuspecting Rakeem Jones and slugs him in the right eye. Instead of confronting McGraw, several police officers on the scene surround Jones and shuffle him out of the building along with other protesters. Five of those officers have now been "disciplined" for "failure to act" at the rally. According to the New York Times, three have been demoted and suspended without pay for five days, and two more will be suspended without pay for three days. All five were placed on probation for a year.
In a statement on his Facebook page, Sheriff Earl Butler of Cumberland County said the officers have been charged with "unsatisfactory performance and failing to discharge the duties and policies of the office of sheriff." He went on, "The actions of the deputies and their failures to act in situations such as that which occurred during the Trump rally at the Crown Coliseum have never been and will not ever be tolerated under the policies of this office. We regret that any of the circumstances at the Trump rally occurred."
Just after he was slugged in the face, Jones told the Washington Post he couldn't believe police went after him instead of McGraw. "The police jumped on me like I was the one swinging," he said. "My eye still hurts. It's just shocking. The shock of it all is starting to set in. It's like this dude really hit me and they let him get away with it." 
McGraw, who was also interviewed after the rally, took a different tack. "He deserved it," he said of Jones. "The next time we see him, we might have to kill him. We don't know who he is. He might be with a terrorist organization." (Jones is not, in fact, affiliated with a terrorist organization.) The sheriff's office arrested McGraw the next day and charged him with assault and battery and disorderly conduct, as well as communicating threats. Perhaps he was taking a cue from his fearless leader.