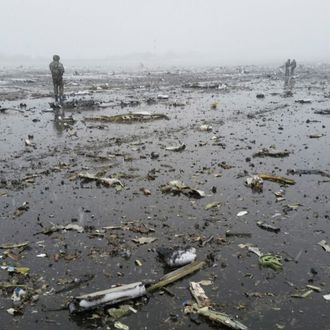 The debris field from the crash.
Photo: TASS/ITAR-TASS Photo/Corbis
A FlyDubai airliner crashed and exploded early Saturday morning while attempting to land in poor weather in the Russian city of Rostov-on-Don, killing all 62 people aboard, according to the airline. The Associated Press reports that the pilots of the Boeing 737-800 were making their second attempt to land at the city's airport in strong winds when the plane nosedived into the ground. Initial theories suggest the crash may have happened as a result of the plane encountering a sudden and near-Hurricane-force gust of wind as it descended, which could have caused the its wings to suddenly lose their lifting power. Both flight recorders have been recovered, though images of the scene show that the plane was completely destroyed by the powerful explosion, leaving only a wide debris field where it struck the ground. The crash and resulting fireball were captured by a nearby CCTV camera:
No distress calls had been issued by the two pilots beforehand, and both were considered experienced, having each logged nearly 6,000 hours of flying time in their careers. The flight, which originated in Dubai — a popular vacation destination and expatriate workplace for Russians — had 7 crew members and 55 passengers aboard, including 4 children.