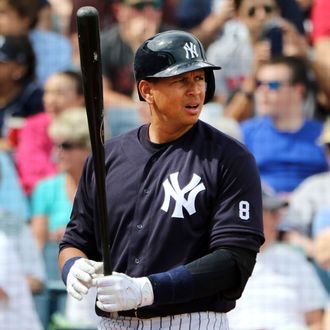 Alex Rodriguez, during this year's spring training.
Photo: Justin K. Aller/Getty Images
Alex Rodriguez tells ESPN that he's going to call it quits after the 2017 season, when his current contract expires. That's long been the likeliest date for A-Rod's retirement: There was virtually no chance he'd play beyond his current deal, which will end when he's 42, and leaving early would have meant forgoing the tens of millions of dollars he's still owed. "I've really enjoyed my time," Rodriguez told ESPN's Andrew Marchand. "For me, it is time for me to go home and be Dad."
Rodriguez arrived in New York in 2004, winning two MVP awards before opting out of his contract after the 2007 season. It was during that off-season that he signed a new deal, the controversial ten-year, $275 million one that the Yankees would grow to regret after A-Rod's skills began to fade and injuries piled up. He also got caught up in two separate PED scandals, the latter of which caused Rodriguez to miss the entire 2014 season and muddied his relationship with both the league and the Yankees.
But A-Rod returned in 2015 and put up very good numbers, hitting 33 home runs in 151 games. His unexpected output — and that of Mark Teixeira, before his injury — helped keep the team in contention all year and get them into the playoffs for the first time since 2012. The season also helped improve Rodriguez's image, especially among Yankees fans who'd been desperate to cheer for a playoff-caliber team again.
Rodriguez, by the way, needs 28 home runs to pass Babe Ruth for the third-most in league history.