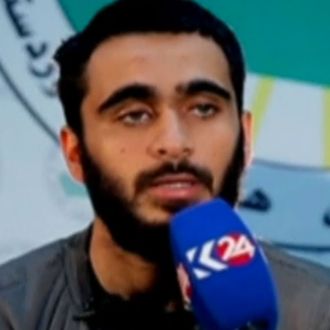 Those guys … meh.
Photo: NBC
Mohamad Jamal Khweis — the 26-year-old American who had been serving with ISIS until earlier this week, when he was detained while trying to quit — explained on Kurdish TV today that living with the architects of the caliphate was no fun at all. "Our daily life was prayer, eating, and learning about the religion for eight hours," he said. ""It was pretty hard to live in Mosul. It's not like the Western countries … There's no smoking."
Khweis said that he didn't take to his sharia studies, didn't like his imam, and eventually came to the same conclusion that most of the planet figured out a long time ago: ISIS does not represent Islam. "I don't see them as good Muslims," he said during the broadcast. But he really wanted to hammer home his crucial point: "My message to the American people is, the life in Mosul—it's really, really bad."
Not only was living with ISIS a total drag, but getting to Mosul was a huge schlep. Khweis left his family in Virginia in 2014, making his way to Turkey, where he met an Iraqi woman who said she could get them across the border. They took a bus to the Turkey-Syria border, then a taxi into Syria, where he stayed with a series of foreigners who were also headed to join ISIS. A ten-hour all-male bus trip got him through the desert to Mosul.
Khweis eventually quit his sharia studies and decided to give himself up to Kurdish forces. He had, he says, been having second thoughts the entire time.  "I made a bad decision to go with the girl and go to Mosul … I wasn't thinking straight, and on the way there I regretted — I wanted to go back," he said. ISIS has lost 40 percent of its land in Iraq and recently had to cut fighters' salaries in half. Meanwhile, U.S. counterterrorism officials are eager to get their hands on the dissatisfied defector and have called Khweis a "gold mine" of information.