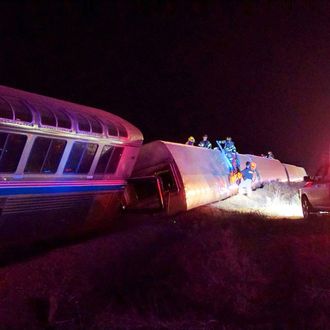 Whoops.
Photo: Daniel Szczerba via AP
An Amtrak train heading from Los Angeles to Chicago derailed in southwest Kansas just after midnight on Monday morning, toppling five coaches and sending 29 people to the hospital. A spokesperson for Gray County, Kansas, said that none of the injuries were life-threatening. The cause of the derailment remains unclear and is being investigated. One passenger told NBC that he "did not feel an impact, [it] simply felt like we were traveling off the rails." 
Train travel is safer than it used to be, even if it sometimes feels otherwise. In 2014, the rail-accident rate was the lowest it has ever been, with 1,279 train derailments on federal railroads, most of which were minor slips with no injuries. This accident, however, is inevitably a reminder of last May's derailment near Philadelphia that killed eight and injured 200. In that case, the cause of the crash is likely to have been a projectile, probably a rock, that hit but did not shatter the windshield of the train and briefly distracted its engineer. Just last week, a mudslide is thought to have triggered a derailment in California that injured 14. 
In December, Congress passed the FAST Act, which fully funded Amtrak and authorized a further $1.45 billion for a variety of improvements. Some say that authorization is not nearly enough for Amtrak to complete its adoption of positive train control, a high-tech system that automatically brakes trains that are running above safe speeds.