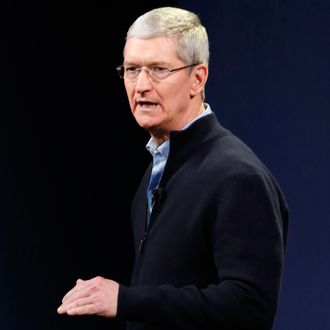 Apple CEO Tim Cook speaks onstage during an Apple special event.
Photo: Stephen Lam/Getty Images
After weeks of relentlessly negging each other in their legal filings and the press, Apple and the FBI are getting in their final punches before heading to court next week. 
The two have been locked in a very public feud about phones that were confiscated during the investigation for the San Bernardino shooting, with Apple opposing a court order that would force the company to help unlock the phones for governmental investigation purposes. On one side, the FBI is asking Apple to create a new software tool that would help it break into customers' encrypted data during investigations. On the other, Apple is like, "Hm, seems like something we shouldn't have to provide you with, specifically because it sounds very evil."
Just like a son home for Thanksgiving who knows setting up the printer will soon turn into a half-day lesson in migrating mom's entire camera roll to her laptop, Apple believes that if it assists the FBI, a precedent will be set in which it — and other tech companies — are obligated to build all kinds of free, sinister crap for the government.
Also: Shouldn't government agencies be able to build this on their own? Because they're smart? And good at their jobs?
That's where Apple's latest legal own comes into play. In the company's most recent brief (the last one to be filed before they meet in court next week), it asks a pretty straightforward question: Why isn't the NSA, the government agency that exists specifically to address things like this, taking care of the FBI's software needs?
It's an issue that has already been brought up in the press by a former national security official, but this is the first time the company has specifically addressed the question in these proceedings.
From the brief: "The government does not deny that there may be other agencies in the government that could assist it in unlocking the phone and accessing its data; rather, it claims, without support, that it has no obligation to consult other agencies … Defining the scope of the All Writs Act as inversely proportional to the capabilities of the FBI removes any incentive for it to innovate and develop more robust forensic capabilities."
Or, more simply: Y'all are lazy. Do it yourselves.
These remarks come hot on the heels of an aggressive filing from the Justice Department last Thursday, where the Justice Department suggested Apple is already doing this sort of thing for the Chinese government and that the tech company is using this case as a "marketing tool" because it knows it'll get press  — claims Apple has vehemently denied in its newest brief.