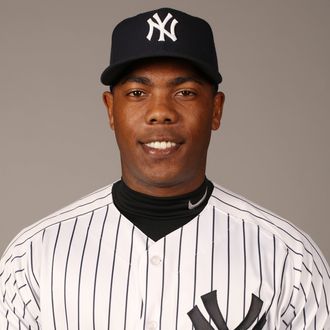 Suspended Yankees closer Aroldis Chapman will be eligible to return on May 9.
Photo: Robbie Rogers/Getty Images
Aroldis Chapman, the star closer acquired by the Yankees in a December trade, has been suspended for 30 games under Major League Baseball's new domestic-violence policy. He becomes the first player punished under the new policy. According to police reports, Chapman fired eight shots into a wall in the garage of his Miami-area home after an October altercation with his girlfriend in which she told cops he choked her and pushed her against a wall. No charges were filed, but baseball's policy allows commissioner Rob Manfred to impose discipline whether or not a player is charged or convicted of a crime.
According to the Times, Manfred wanted to make a firm statement with the suspension, and also wanted to impose a punishment that wouldn't be reduced or overturned on appeal. (In other words, he wanted to avoid the mistakes made by NFL commissioner Roger Goodell.) The suspension was handed down after negotiations between MLB executives and lawyers for both Chapman and the league's players' union. As a result, Chapman will not appeal the suspension.
Chapman will be eligible to take part in spring training, and his suspension will begin on Opening Day. He'll be eligible to return on May 9 and will forfeit roughly $1.7 million in salary. Chapman released a statement this afternoon, via Fox's Ken Rosenthal:
"Today, I accepted a 30 game suspension from Major League Baseball resulting from my actions on October 30, 2015. I want to be clear, I did not in any way harm my girlfriend that evening. However, I should have exercised better judgment with respect to certain actions, and for that I am sorry. The decision to accept a suspension, as opposed to appealing one, was made after careful consideration. I made this decision in an effort to minimize the distractions that an appeal would cause the Yankees, my new teammates and most importantly, my family. I have learned from this matter, and I look forward to being part of the Yankees' quest for a 28th World Series title. Out of respect for my teammates and my family, I will have no further comment."
The Yankees acquired Chapman from Cincinnati to bolster their already-strong bullpen and made the trade knowing that he could face discipline over the October incident. The team also released a statement Tuesday afternoon: "The New York Yankees support the decision made by The Commissioner today. We are pleased that Aroldis has accepted this discipline." Before the trade that sent Chapman to New York, a deal between the Reds and Dodgers fell through when news broke that Florida police had investigated the accusation of domestic violence.