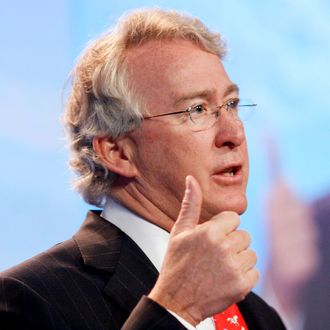 Aubrey McClendon, the former CEO of Chesapeake Energy, died in a one-car crash earlier today.
Photo: F. Carter Smith/Bloomberg via Getty Images
Aubrey McClendon, a part-owner of the NBA's Oklahoma City Thunder and the billionaire former CEO of Chesapeake Energy who was indicted just Tuesday on a charge of conspiracy to rig bids, died Wednesday in a one-car crash in Oklahoma City. He was 56. A co-founder of Chesapeake, McClendon also owned 20 percent of the Thunder and was part of the group that controversially moved the Seattle SuperSonics to Oklahoma City in 2008. (He was once fined $250,000 by the NBA for bragging that he and his partners hadn't bought the team to keep it in Seattle.)
During McClendon's tenure as CEO, Chesapeake Energy aggressively outbid competitors for land leases so it could build wells in major shale-gas fields; he was forced to step down in 2013 over scrutiny over how he mixed his personal finances and those of the corporation, according to the Times. He's had assorted legal issues since, and yesterday the Justice Department announced that it had charged him with orchestrating a conspiracy to rig bids. The Times explains the scheme:
The indictment says that Mr. McClendon, who led Chesapeake Energy before he was forced to step down three years ago, orchestrated a conspiracy in which two oil and gas companies colluded not to bid against each other for the purchase of several leases in northwestern Oklahoma from late 2007 to early 2012.

According to the Justice Department, the companies decided who would win the leases, with the winning bidder allotting an interest in the leases to the other company.
McClendon was charged under the Sherman Act, a federal antitrust statute. Each violation of the Sherman Act carries a maximum penalty of ten years in prison and a $1 million fine.
Reuters reports that, according to police, McClendon's car was so badly burned in this morning's wreck that cops couldn't even tell if he was wearing his seat belt. A reporter for The Oklahoman, meanwhile, provided details of the crash, including that, according to police, there was no indication that McClendon tried to stop his car from wrecking: