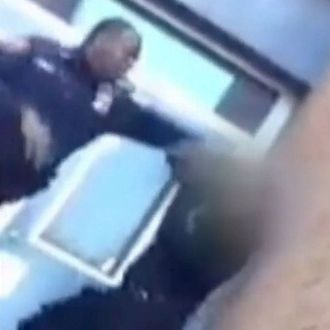 Video of a Baltimore school police officer slapping and kicking a student is roiling a district that last year announced it was adopting "zero-tolerance enforcement" to curb bad behavior. Baltimore's CBS affiliate, WJZ, released the video, originally captured by a student at Reach Partnership high school, and alerted the authorities. It shows an officer hitting a male high-school student in the face and trying to kick him as a second officer stands by. Both cops, as well as the head of Baltimore school police, Marshall Goodwin, have been put on administrative leave. Neither the events preceding the scuffle nor whether the student attends Reach Partnership has been confirmed.  
"I'm a parent, and I'm totally appalled at what I saw in that video. No matter what the circumstances are," said Karl Perry, who took over the School Supports Office — a department that tries to improve the climate for students — last June and has criticized the system's "soft code of conduct." When Perry came into his position he vowed to "return to zero-tolerance enforcement of [his] expectations for appropriate behaviors." The Baltimore Sun has frequently challenged the district's approach to policing, reporting that, according to the Department of Juvenile Services, school arrests account for 16 percent of juvenile arrests in Baltimore (versus one percent in the rest of the state).
In January 2015, a video emerged of a fight between a Baltimore police officer and three middle-school girls in which one of the students was hit over the head with a baton and later sent to the hospital. The school-policing issue reached a national level in October when a now-infamous video emerged showing an officer in South Carolina throwing a girl to the ground in her desk chair. Around 43 percent of U.S. public schools have police officers on the grounds.