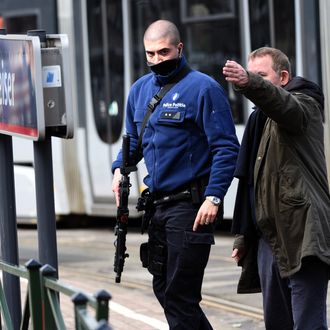 A Belgian police officer in the midst of an anti-terrorism raid in Brussels on Friday.
Photo: Patrik Stollarz/AFP/Getty Images
Belgian authorities have announced that they have arrested and charged three terrorism suspects following a Europe-wide effort to identify and capture ISIS terrorist-cell members following Tuesday's suicide bombings in Brussels. One of the suspects may be the "man in white" captured by surveillance cameras walking with the bombers at the Brussels airport before the attack. The Washington Post reports that that man has been identified in Belgian media as an independent journalist named Fayçal Cheffou who has a history of advocating for radical Islamist causes, including a prior arrest for attempting to recruit refugees in a public park. No weapons or explosives were found when authorities searched his home. 
Three other men were taken into custody following police raids throughout Brussels on Friday, and according to the New York Times, one of whom was shot in the leg by police during a raid. Two of those men have been charged with terrorist activities as well. Elsewhere, German authorities detained a man who had been deported from Turkey with one of the Brussels attackers last July, and authorities in France arrested a 34-year-old French native, also connected to Belgium, who they say was plotting an imminent attack, though apparently has not been linked to either the Paris or Brussels attacks. 
Belgian officials have additionally confirmed previous reports that one of the airport bombers was 24-year-old bomb maker Najim Laachraoui, whose DNA was found on explosives used in the Paris attacks. The Times reports that the Moroccan-born Laachraoui had grown up in Brussels and studied both engineering and electromechanics over two incomplete stints at colleges. His family then lost track of him after he travelled to Syria in 2013, and Laachraoui was first connected to terrorism in February after being suspected of links to a convicted jihadist who had originally recruited the alleged mastermind of the Paris attacks. Laachraoui was also apparently stopped by police on the Hungary-Austria border in September traveling with now-arrested Paris attacker Salah Abdeslam.
Meanwhile, Belgian prosecutors acknowledged yet another security lapse on Friday, disclosing that when they interrogated Abdeslam following his arrest on March 18, they focused solely on the Paris attacks and in fact did not ask him about future plots already underway. Abdelsam stopped speaking with investigators following the attacks in Brussels. Belgian authorities continue to face criticism over multiple intelligence failures with regard to preventing Tuesday's bombings, which killed 31 people.