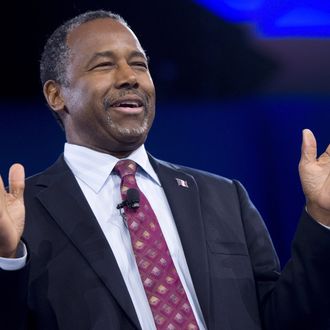 Gifted hands and small hands stick together.
Photo: Saul Loeb/AFP/Getty Images
After suspending his campaign last week, Ben Carson has decided that the best way to "save our nation" is with a Trump presidency. According to "two people familiar with his thinking," Carson plans to endorse Donald Trump for the Republican nomination at a press conference Friday morning — and Trump himself spoiled the surprise during Thursday's debate. The deal was reportedly finalized Thursday morning when Carson met with Trump at his Mar-a-Lago resort. During an appearance on Fox News Radio Thursday afternoon, Carson seemed to prime the pump for his announcement by praising Trump. "There's two Donald Trumps," he said. "There's the Donald Trump that you see on television and who gets out in front of big audiences, and there's the Donald Trump behind the scenes. One's very much an entertainer, and one is actually a thinking individual."
Carson had previously said he hoped to support either Trump or Ted Cruz, but an anonymous source told CNN Carson has "lingering hard feelings" over the Cruz campaign spreading a rumor Carson had dropped out of the race just before the Iowa caucus. What's more, the source said Carson is "already comfortable" with Trump, seeing as they both have houses in West Palm Beach. Carson's endorsement will be the most significant for Trump since New Jersey governor Chris Christie endorsed (or was taken hostage by) him at the end of last month.