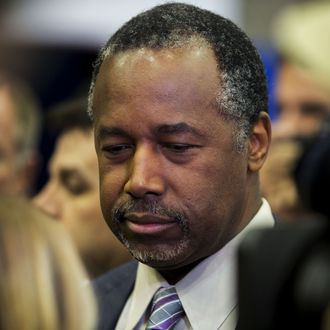 Because just dropping out would be too simple.
Photo: Andrew Harrer/Bloomberg via Getty Images
Ben Carson's campaign is running out of reasons for Ben Carson to stay in the Republican race. Late last month, Carson's super-pac argued that he'd bring balance to a potential Republican ticket, if not as a presidential candidate then perhaps as second-in-command. But in the face of single-digit polling and a terrible Super Tuesday performance — Carson won only eight delegates, including one in the town of Eek, Alaska — Carson has released an official statement saying that he'll skip Thursday's GOP debate in Detroit. "I do not see a political path forward in light of last evening's Super Tuesday primary results," he wrote, but promised that his "grassroots movement" would continue.
How or why it would continue was not immediately clear; Carson's campaign manager has said he "clearly doesn't know" what Carson's path to victory would look like. "It's not about a pathway to him," one of Carson's advisers told Politico just hours before Super Tuesday results were released. "It's about his constituency and his base telling him to stay in the race. Everybody else is telling him to get out."
Carson was briefly at the top of the polls last year, but as his popularity began to wane, his campaign staff went through a series of shake-ups. Nevertheless, as recently as yesterday Carson reassured the "millions of patriots" supporting him that he would remain in the race. "We have a process — an electoral process — [and] that is a process that I am in the process of following and will continue to follow," he said with a straight face in a video addressed to "the haters." How long Carson will continue in the shadow of the Republicans' frenemy-in-chief remains to be seen.