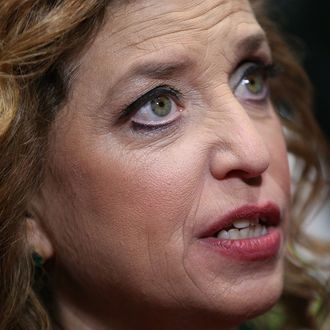 Photo: Andrew Burton/Getty Images
Vermont senator Bernie Sanders's presidential campaign served the Democratic National Committee with a lawsuit on Thursday over the DNC's decision to revoke the campaign's access to party voter data. Sanders's campaign just made the deadline to file the suit — it reportedly had until Thursday to serve the DNC. If it hadn't done so in time, the case could have been dropped.
The Sanders campaign first filed the suit back in December when the DNC barred it from accessing its database of likely Democratic voters, which is shared among all Democratic campaigns, after a Sanders staffer viewed confidential voter information assembled by the Hillary Clinton campaign.
The committee soon restored the Sanders campaign's access, but the campaign refused to drop its lawsuit and still seeks an independent audit of the DNC's data practices and their vendor, NGP VAN. The Sanders campaign maintains that its former data director, Josh Uretsky, who was immediately fired after the incident came to light, had only searched and downloaded Clinton data to understand the extent of a data security breach before reporting it, but the Clinton campaign believes the violation was deliberate.
However, it seems unlikely that the suit will proceed to trial. Thursday's court filing says the Sanders campaign and the DNC "continue to engage in cooperative discussions in their efforts to resolve the pending litigation," and a source close to the Sanders campaign said they believed the issue would be "resolved amicably."
The source added that the active lawsuit, which seeks $75,000 for breach of contract, will keep the campaign's options open as it parleys with the DNC "to make sure Sen. Sanders is treated fairly in this process." Sanders supporters have repeatedly accused the DNC and its chair, Debbie Wasserman Schultz, of favoring Clinton and working to give her campaign an unfair advantage.