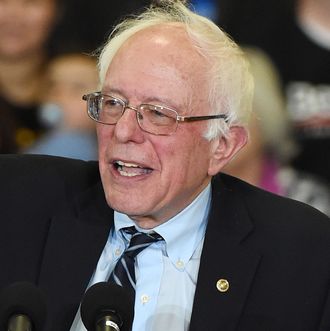 B-Money $anders.
Photo: Ethan Miller/Getty Images
Bernie Sanders had a super Monday. Before the leap day was through, the socialist senator had redistributed $5.5 million from his army of small-dollar donors to his campaign coffers. That haul puts Sanders above his February fund-raising goal of $40 million.
But there's more to life (/elections) than money, and that pile of cash could prove cold comfort for Bernie by the time Super Tuesday returns roll in tonight. The insurgent Democrat is facing unfavorable terrain, with most of today's primaries in the South, where Sanders's failure to reach African-American voters has left him miles behind Hillary Clinton in the polls. Still, for some strange reason, Sanders is polling exceptionally well in Vermont, and has a fighting chance in Massachusetts, Oklahoma, Colorado, and Minnesota. But if Sanders loses by large margins across the South, and fails to win where he's competitive, he may wake up Wednesday morning with no path to the nomination and more campaign cash than any socialist insurgent ever dreamed of spending.