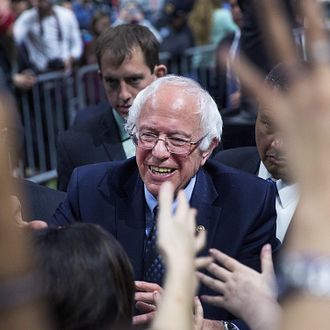 Sanders is one step closer to winning the nomination.
Photo: Scott Olson/2016 Getty Images
Bernie Sanders received a much-needed morale boost Sunday with a "yuuuge" victory against Hillary Clinton in Maine. With 91 precincts reporting, Sanders pulled ahead with 64 percent of the vote and 15 delegates while Clinton received about 35 percent and only seven delegates, NPR reports. The results rolled in while both candidates debated in Flint, Michigan, but Sanders nonetheless released a written statement: "I thank the people of Maine for their strong support," he said. "With another double-digit victory, we have now won by wide margins in states from New England to the Rocky Mountains and from the Midwest to the Great Plains. The pundits might not like it, but the people are making history."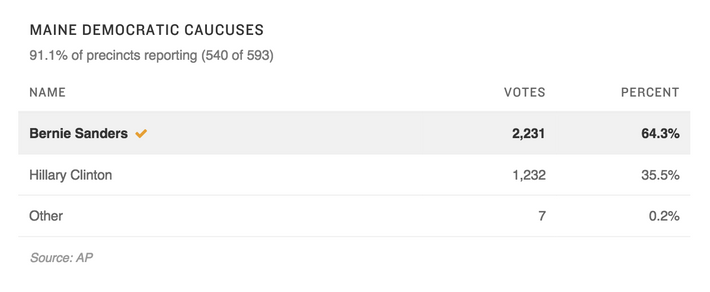 His victory doesn't come as a surprise; as New York's Ed Kilgore noted, Maine is considered "big-time Sanders territory." But these types of symbolic victories are important insomuch as they reinforce Sanders's relevance as a protest candidate to whom Clinton can make concessions in order to cement party unity. 
Sanders is also favored — although not heavily — in Kansas and Nebraska, but according to FiveThirtyEight, Clinton holds the lead in the polls almost everywhere else.