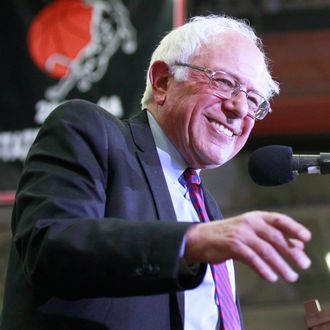 Photo: George Frey/2016 Getty Images
Bernie Sanders pulled off wins in Utah and Idaho early Wednesday morning, giving his campaign a much-needed boost after Hillary Clinton's five consecutive victories last Tuesday. The Associated Press called Utah for Sanders at 1:30 a.m. ET — with 82 percent of precincts reporting, the Vermont senator is projected to beat Hillary Clinton there by a wide margin, receiving 80 percent to Clinton's 20 percent.
About an hour later, the AP also announced a win for Sanders in Idaho where he won by a similar margin: 78 percent to Clinton's 21 percent, according to the final tally from CNN. 
Meanwhile, Ted Cruz trounced Donald Trump in Utah. He took 69 percent of the vote, followed by John Kasich with 17 percent, and Trump with 14 percent. That gives Cruz all 40 of the state's delegates.
In a statement, Sanders thanked "the impressive numbers of young people and working-class people who participated in the process" for both wins and proclaimed his confidence that he'll "continue to win major victories in the coming contests."
Despite winning both caucuses, Sanders's delegate count did not significantly increase. Clinton, who won in Arizona earlier Tuesday night, still leads by more than 300 pledged delegates. If he wants to surge ahead of Clinton and clinch the nomination, Sanders needs more than small victories — he needs a knockout.
This post has been updated throughout.