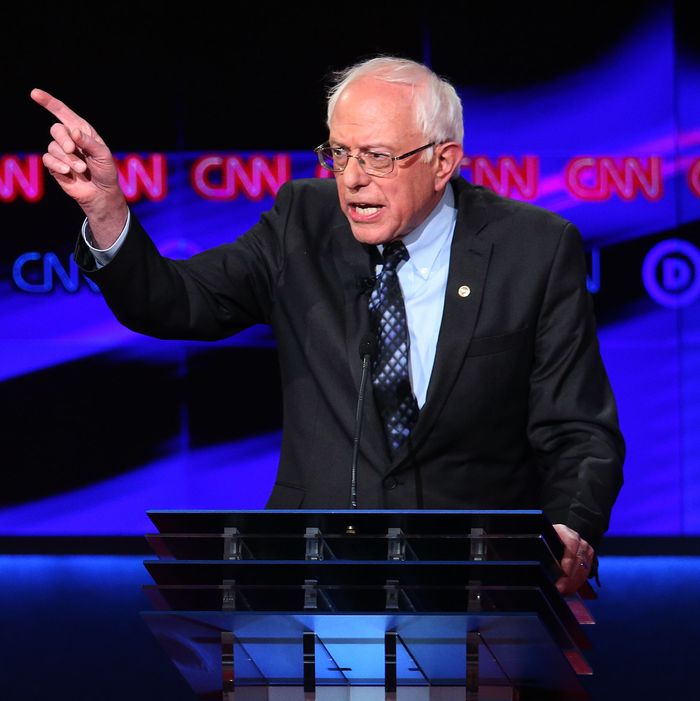 He can't afford many more nights like this.
Photo: Scott Olson/2016 Getty Images
There were really no surprises other than the margins in tonight's Democratic returns from Arizona, Idaho, and Utah. The minute a massive number of early votes from Maricopa County (where Phoenix is located) were dumped into the system, it was obvious Hillary Clinton had a lead that no university towns or election-day balloting could overcome. Arizona is a big early voting state with nearly a month of balloting available to those so inclined; it was sure to be well over half the total vote. And an analysis of the early vote by NBC indicated that 59 percent was cast by women, and more importantly, that 41 percent came from voters over 65 in this big retirement state, while only 7 percent was from Bernie's ultimate base — voters under 30.
With no exit polls being taken tonight, it's hard to get a much firmer grip on how Clinton won in Arizona (her 20-point-plus margin is steadily declining as election-day votes drift in). But a look at heavily Latino counties by FiveThirtyEight's Harry Enten suggests she's doing very well, winning somewhere in the neighborhood of two-thirds of that vote, roughly her performance level in 2008. It's a good sign for her prospects in California on June 7. The dog that didn't bark in Arizona was independents, excluded in this closed primary. That probably doomed Sanders as much as the state's unfriendly demographics.
But further north, in heavily white caucuses in Idaho and Utah (both of which, by the way, allowed independents to participate), Sanders may have erased and exceeded Clinton's delegate haul from Arizona. In early returns, Bernie's winning Utah about two-to-one, and Idaho by even larger margins, reinforced the impression created by his heavily attended events in both states that he was en route to a fairly predictable win. And these results should auger well for what may be the absolute peak of the Sanders campaign this weekend: caucuses in Alaska, Hawaii, and Washington (a state which is perhaps second only to Vermont as the epicenter of the Bern). Indeed, it wouldn't be surprising if Team Sanders tried to make the argument that Clinton's Arizona victory should be disregarded because her support faded on Election Day, while Bernie won big elsewhere and is now on a winning streak.
Sanders needs to overcome Clinton's lead of over 300 pledged delegates before he can even begin to make an argument to superdelegates that they should abandon their fidelity to HRC. And after this glorious weekend for Bernie, the calendar slows down and the big-diverse-state coda of the nominating process grows closer. He cannot afford many more nights of trading haymakers with Clinton. He needs a knockout. And ironically, like Obama in the later stages of the 2008 contest, Clinton can pick her spots and overcome several more narrow setbacks without losing her cool or the nomination.