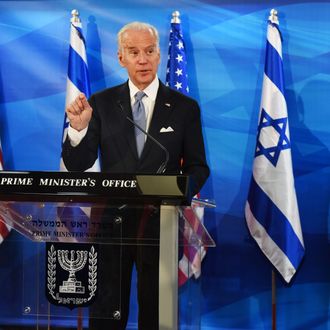 The Biden does not abide.
Photo: Debbie Hill/AFP/Getty Images
Vice-President Joe Biden warned Iran that the United States will monitor and act to contain the Islamic republic's ballistic-missile program Wednesday, after Tehran reportedly launched a new round of missile tests.
"I want to reiterate, as I know people still doubt, if in fact they break the [nuclear] deal, we will act," Biden told reporters during his two-day visit to Israel. "All their conventional activity outside the deal, which is still beyond the deal, we will and are attempting to act wherever we can find it."
Early Wednesday, Iran's Revolutionary Guard claimed to have test-fired two ballistic missiles capable of reaching Israel. The nation's semiofficial news network, Fars News Agency, reported that the missiles were stamped with the words "Israel must be wiped out from," written in Hebrew. However, the Washington Post was unable to confirm that report, and state-issued photos of the launch reveal no such message.
Biden did not propose a specific response to the missile tests. In January, the U.S. Treasury Department issued sanctions against 11 companies and individuals involved in Iran's ballistic-missile program. Missile development is not prohibited under the nuclear agreement reached last year, a point that has been loudly lamented by Israeli prime minister Benjamin Netanyahu.
The tests come weeks after Iranian moderates made massive gains in the nation's parliamentary elections. Like President Hassan Rouhani, these moderates support the nuclear agreement, even as prominent members of the Revolutionary Guard have voiced their opposition.