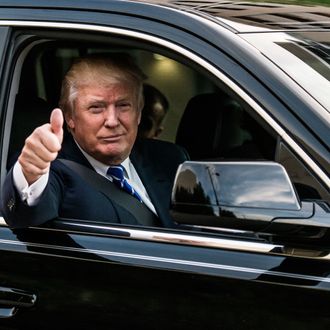 Make Big Oil Donate to Democrats Again?
Photo: Sean Rayford/Getty Images
The Republican Party has few constituencies more loyal than the oil industry. Over the last two election cycles, the American Petroleum Institute has given 80 percent of its donations to GOP candidates. But with the party on the verge of nominating a reality star turned pseudo-fascist demagogue, even Big Oil's eye is starting to wander across the aisle, Politico reports:
The staunchly GOP-aligned oil industry that championed George W. Bush and Mitt Romney isn't yet willing to embrace Donald Trump — and some of its lobbyists wonder if they could stomach seeing Hillary Clinton in the White House instead.
Many of these lobbyists tell Politico that Trump's repeated praise of mob violence and religious discrimination has forced them to put what's best for the country ahead of what's most profitable for their enterprises. Although the Democratic Party's support for regulating carbon emissions could take a bite out of Big Oil's balance sheets, at the end of the day, API views the risk Trump poses to our democratic institutions as far more significant.
Just kidding. They aren't scared of Trump because he might destroy what's left of our crumbling republic — they're scared because he might not be committed to destroying the climate.
"Would he take a carbon tax as part of a tax reform deal? Of course, because he cares about tax reform," said McKenna, the Republican energy lobbyist. "You start asking yourself policy questions, 'Would he do X?' The answer is usually yes."
The lobbyists are also concerned by an interview the Donald gave to Field & Stream in which he came out against returning federal lands to the states. The oil industry believes those lands are best managed by local authorities who know their regions and are much easier to lobby for drilling rights.
"I don't like the idea because I want to keep the lands great, and you don't know what the state is going to do. I mean, are they going to sell if they get into a little bit of trouble?" Trump told the magazine. "And I don't think it's something that should be sold. We have to be great stewards of this land. This is magnificent land."
For the oil industry, this is what a grotesquely offensive Trump gaffe sounds like. Corporations are people. Strange, sociopathic people.